Commitment Announcement
Duke-Bound Johns Puts Sportsmanship First
by Rhiannon Potkey, 6 December 2017
Garrett Johns didn't want the trophy. It's not that Johns wasn't grateful for the hardware, he just knew somebody may want it more.
After capturing the Boys 12s title at the USTA National in Peachtree City, Georgia, four years ago, Johns walked over to Luke Forbes and handed him the trophy.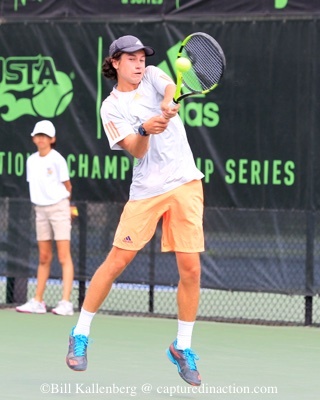 Luke is the younger brother of blue chip Abigail Forbes. Luke has autism, and had never received a big award before.
Other than seeing him at the courts each day, Johns didn't know much about Luke. It didn't matter. He just wanted to help brighten his day.
"It touched my heart so much. My son has special needs, but Garrett made Lukie feel like he belonged and was not just somebody watching his sister play all the time," said Luke's mother, Denise Lawson-Forbes. "It really conveyed who Garrett Johns is inside. Not only is he a great player, but he is a special young man and a sweet, sweet kid."
Johns is as competitive as they come. The Atlanta native wants to win every match. But he never loses sight of the bigger picture.
The blue chip junior doesn't want winning to come at the expense of being a class act.
At the USTA Boys 18 & 16 National Championships in Kalamazoo in August, Johns received the Bobby Kaplan Sportsmanship Award for the Boys 16s.
It was an honor that played a role in his recruiting process.
Once Kalamazoo ended, Duke head coach Ramsey Smith sent Johns a handwritten letter in the mail.
"It said they would love to have Garrett play for Duke, and had a P.S. saying Ramsey and his assistant coach (Jonathan Stokke) won the Sportsmanship Award at Kalamazoo as well," said Johns' mother, Lynn. "We all thought that was pretty cool."
Johns officially committed to Duke two weeks ago when Smith called and offered him a scholarship.
Johns took an unofficial visit to the campus and enjoyed everything about the school. A die-hard basketball fan who knows the names of every top prospect, he even got to watch the top-ranked Duke men scrimmage.
"I felt like the coaches and I had a good connection and that I should definitely take the offer," said Johns, who also considered Georgia, Tennessee, Florida State and UC Santa Barbara. "I wasn't going to rush my decision, but I was going to choose the school that felt like the right fit and I felt like Duke was the right fit for me."