Commitment Profile
Zhu Heads to UCLA
by
Colette Lewis
, 24 June 2016
A program with the history and reputation of UCLA doesn't need a sales force, yet Evan Zhu, who will join the Bruins this fall, found himself surrounded by advocates for the school while in Southern California.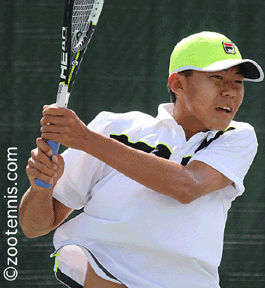 A trio of former UCLA stars - Nick Meister, Dan Kosakowski and Haythem Abid - had practiced with, coached or competed against the 17-year-old, five-star recruit and were eager to see him in the True Blue and Gold of the Bruins.
"Nick Meister was really the one who led me toward UCLA," said Zhu, who has trained at the Dent Academy in Fountain Valley, California the past two years. "He was the one who first introduced me to Grant [Chen, UCLA assistant coach] and told them about me. And me about them."
Chen and head coach Billy Martin had received other reports as well.
"He played Haythem Abid a little less than a year ago and lost in three sets, but Haythem had told me, hey coach, this is a really good junior," said Martin. "He's got the full package of strokes, a good head on his shoulders. He's training with Phil Dent and another one of my former players, Dan Kosakowski, down at Los Cab[alleros Racquet and Sports Club], and both spoke very highly of Evan, his unbelievable work ethic, good head on his shoulders, game looks pretty complete. It just made me more and more interested in him, and watching him play, I knew he could step in. He's a very good student also, so I felt it was a pretty good match for us."
Zhu was not ready to make a decision last fall, when many other high school seniors were signing National Letters of Intent for the 2016-17 school year.
"I started looking at schools pretty late, October of last year. I had just started talking to schools then, so I didn't feel ready," said Zhu, who recently completed his senior year at Julian Charter School. "I had no idea. There were a lot of coaches who were texting me and calling me, but there were just a few schools I was really interested in."
Zhu, who is interested in studying business or economics in college, narrowed his choices to Stanford, Harvard and UCLA, but there was no agonizing when the decision had to be made.