Who's Hot
Hot 100 List - December '17
by Amelia Thomas, 19 December 2017
Schools are letting out and cold weather is hitting all over the country. The Hot 100 list, however, brings you 100 junior players that are still heating up the court. We checked in with a few star players after their success in the month of November.
Katharine Sherman (Augusta, Ga.)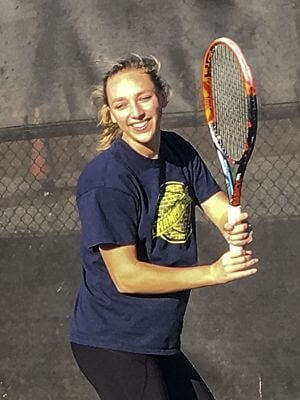 Three Star Senior Katharine Sherman
As she nears the end of her high school days, three-star senior Katharine Sherman is making the best of her junior tennis career. She has caught the attention of several college coaches but has yet to decide on a school.
"I have already been accepted into college and have received attention from a number of college coaches," she said. "This has relieved some pressure off of me to win every match because I almost feel as if I have already succeeded. This new confidence has made it easier for me to make decisions while on the court."
The extra motivation Sherman has received from her college prospects has translated to the court. She credits her recent success to her strong mental game.
"My success in the last month stems primarily from my positive mental state rather than my physical abilities," she said. "Over the past year, I have matured on and off the court and have found the best ways for me to control my emotions more effectively."
Unlike many of her peers, Sherman attends school full-time with a rigorous International Baccalaureate (IB) course load. Still, she has managed to find both academic and athletic success.
The 5-foot-10 Sherman is a member of numerous honor societies, has won several academic awards over the years and is ranked third in her class at the Academy of Richmond County. Most recently, she was named the scholar athlete of the year at her school.