Championship Week
Kayla Day Wins Girls 18s, Wild Card in San Diego
by Rhiannon Potkey, 19 August 2016
Kayla Day veered from her normal routine.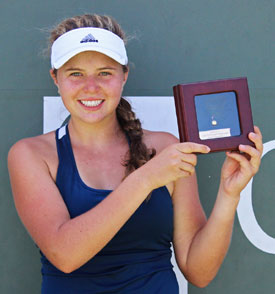 The Santa Barbara native usually just trains the week before a major event. But Day played a warm-up tournament before heading to the
USTA Girls' 18s National Championships
this year.
"My coach wanted me to get some matches and maybe get some of the nerves out of my system," Day said. "He wanted me to get some competition before it started so I would be ready."
The new formula worked to perfection.
The top-seeded Day capped a strong run through the singles draw by beating seventh-seeded Nicole Frenkel of Winchester, Mass., 6-2, 3-6, 6-1 in the final at the Barnes Tennis Center in San Diego.
"I am pretty much speechless," Day said immediately after capturing the title. "I am so happy right now. It feels amazing."
Along with earning a USTA gold ball, Day received the coveted wild card into the women's singles main draw at the U.S. Open.
"I am so excited about that. I was trying not to think too much about it because it definitely is a big deal," said Day, who will turn 17 in September. "I didn't want to think about it during the match, but now that I have won I am so excited. I can't wait to go."
Day jumped out to a 4-0 lead over Frenkel and won the first set in 41 minutes.
But after Day broke for a 3-1 lead in the second set, Frenkel mounted a comeback. She won five straight games to send the match into a deciding set on stadium court.
"I started really well. I was being more aggressive and making less errors and serving well. I think the strong start really helped me. But I think nerves kind of got to me in the second set," Day said. "I was up a break and she kind of loosened up a bit. She played better and started making more shots and pushing me around more. But I came out more aggressive in the third set and that really helped push me through."