Who's Hot
Hot 100 List - January '18
by Amelia Thomas, 17 January 2018
Around the holidays, the days get busier than ever. As school lets out for winter vacation, however, many players used that time to their advantage to amp up their games. We checked in with a few notable performers in this month's Hot 100.
Monique Woog (Lakeland, Tenn.)
Four-star junior Monique Woog comes from a family of avid tennis players. Her oldest brother, Stefan Woog, was a highly-ranked junior player. Another brother, Jarryd Woog, is attempting to play pro tennis and just achieved his first ATP point last month. Her older sister, Lauren Woog, plays for a D-II school called Christian Brothers University.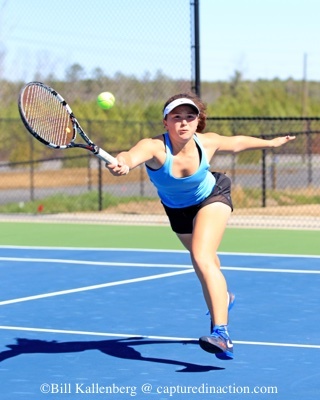 It should come as no surprise then that Monique Woog was exposed to tennis at a young age. "I was born into a tennis family," she said. "It started out as just fun with my dad, but soon I developed a love for the game."
Her father, Jorge Woog, is her primary coach. They hit at least five times a week, with added conditioning two or three times a week.
Monique Woog and her father are currently focusing on several aspects of her game. "[I am] persistently working on improving my technique, footwork and shot selection," she said.
Last month, Woog competed at the Icy Hot Winter Indoor Championships in Knoxville, Tennessee. A particular win stuck out to her: the quarterfinals against four-star senior and No. 4 seed, Tara Veluvolu. Woog had lost to Veluvolu in the past, which motivated her to ensure a different outcome this time around.
"The last time I played her, I lost pretty easily, but this time I stepped up and played how I needed to play and ended up winning 5-7, 6-2, 6-4," she said. "This win gave me more confidence going into my next matches."
Woog went on to defeat two five-star players to clinch the championship. She earned a 6-0 record for December and jumped to No. 118 on the College Recruiting Lists.
Her father believes his daughter's sportsmanship distinguishes her from her peers. "What sets her apart is her attitude on the court [and] her desire to be the best player she can be without jeopardizing her values and integrity," Jorge Woog said.
For Woog, the credit for her positive attitude goes to her strong faith. "I play for Jesus Christ," she said. "All the glory and honor goes to him, no matter the outcome."
Jacob Bickersteth (West Bloomfield, Mich.)
Four-star sophomore Jacob Bickersteth credits his recent success to the time and effort he has been putting into his game. He attends the online Michigan Connections Academy, which allows him to spend most of his days out on the court.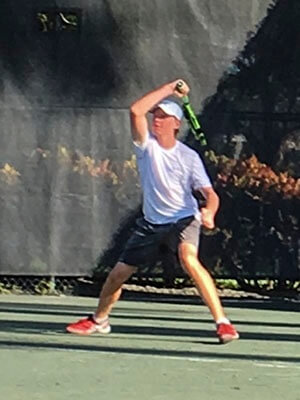 Four-star sophomore Jacob Bickersteth
"He started online schooling in seventh grade and has stuck to his goal of five or more hours a day, always trying to improve," his mother, Kim Bickersteth, said. "He even gets home exhausted from a tournament and wants to practice that day. His passion truly is amazing."
Jacob Bickersteth works with coach Joe Stafford of the Stafford Tennis Academy. Recently, the two have been working on Bickersteth's consistency and decision making.
"I have been working with my coach on making sure the racket head fires through the hitting zone and gaining the ability to sustain it and pump it up in the big moments," Jacob said. "My decision making has improved a lot, too. I know when I need to redirect, absorb, block or accelerate."
Another important development for Bickersteth has been his mental game. "I am working on believing in myself during the big moments and improving the spin-to-speed ratio on my forehand," he said. "All these things came together during Winter Nationals."