Tournament Summary
Liu Sweeps Girls Titles at ITF International Hard Courts, Kecmanovic Wins Boys Singles
by
Colette Lewis
, 30 August 2016
The ITF Grade 1 International Hard Court Tournament last week at the Junior Tennis Champions Center in College Park, Maryland was left without a boys final when Oliver Crawford, who injured his ankle in the doubles semifinals the day before, was unable to take the court against Serbia's Miomir Kecmanovic. But the girls final nearly filled the void, with Claire Liu defeating Xiyu Wang of China 6-3, 4-6, 6-3 in a match that took just under three hours to complete.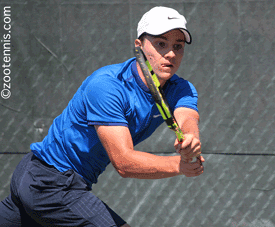 Kecmanovic, the No. 2 seed, had worked his way through the draw with little difficulty, beating No. 9 seed
Khumoyan Sultanov
of Uzbekistan and No. 3 seed
Youssef Hossam
of Egypt prior to the final with the loss of just six games. Crawford, the No. 16 seed, took out No. 4 seed
Alexei Popyrin
of Australia in the third round, No. 10 seed
Yshai Oliel
of Israel in the quarterfinals and No. 12 seed
Gianni Ross
in the semifinals. Crawford defeated Ross, who had taken out top seed
Genaro Olivieri
of Argentina in the quarterfinals, 6-4, 5-7, 6-3 in sapping heat and humidity, needing over three hours to earn the victory. It was Crawford's rolled ankle a few hours after that marathon that led to his decision to withdraw from the final.
"We haven't done any x-rays or anything, but I couldn't put much pressure on it today," said Crawford, a 17-year-old from South Carolina. "There was no chance I was going to have any chance of winning, so there was no point in getting it worse. Hopefully I can get back and be ready for the [US] Open. I'm going to fly home today. I have a trainer I work with back home, get an x-ray and take some rest, do all the recovery stuff I can do."
"It's very disappointing," Crawford continued. "It's my first Grade 1 final. This is one of the best weeks of tennis I've ever had, playing my best tennis right now and it's a shame that I couldn't play. I'm not saying I would beat Mischa, he's a very good player and I would have had to play very, very well to beat him. But he's had a great tournament and congrats to him."
Kecmanovic said he had only gotten a walkover in a final once before, in doubles, in the 14s.
"It's not really how I thought it was going to happen," Kecmanovic, who turns 17 tomorrow. "I hope he gets better fast and he can play at the Open."
Kecmanovic, who will return to the IMG Academy in Bradenton before heading to New York for the Junior Championships, was pleased with his results.
"I've been playing pretty good this week," Kecmanovic said. "I haven't lost a set, had only one tough set and it was against some pretty good guys, some top guys and I'm happy to play that way. It's a good warmup to the US Open."
The Orange Bowl champion has yet to reach the quarterfinals of a junior slam in seven tries, but he's optimistic about his prospects in New York after his results in College Park.
"If I play like I played this week, I think I can go deep this time," Kecmanovic said.
The girls draw had also lost its number 1 seed prior to the final, with ITF World No. 1 and Wimbledon girls champion Anastasia Potapova of Russia overpowered by No. 7 seed Wang in the semifinals 6-1, 6-3. Wang had also beaten No. 4 seed Maria Mateas 6-4, 6-1 in the quarterfinals.
No. 2 seed Liu had cruised into the semifinals, beating unseeded Alana Smith 6-1, 6-0 in the quarterfinals, but she was tested in the semifinals by 14-year-old JTCC student Hailey Baptiste. Baptiste, playing in just her second Grade 1 tournament, beat USTA 16s National champion Nicole Mossmer 3-6, 6-4, 6-1 in the quarterfinals before Liu's experience earned her a 6-4, 4-6, 6-2 victory.
In the championship match, Liu took an early 3-1 lead in the first set, closing out the set in just under an hour with her second break of Wang's serve. Although Liu also went up 3-1 in the second set, Wang steadied herself, immediately broke back and then earned a chance to serve out the set with a second break of serve at 4-4. Although, as in most of the games, nothing came easy, Wang did close out the set on her third set point, and both girls headed for the air conditioning of the clubhouse for the 10-minute heat rule break.