Commitment Profile
Countdown: Mendelsohn Rides the Waves
by Rhiannon Potkey, 26 October 2016
Max Mendelsohn likely would have committed to Pepperdine even if it wasn't located in scenic Malibu. But as he gazed at the ocean from the famous spot many coaches bring their recruits, Mendelsohn's decision came into greater focus.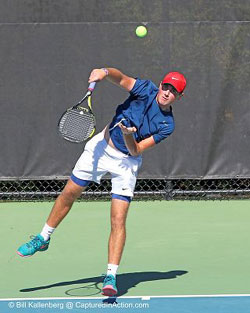 "I just fell in love and knew it was the place I wanted to be," said Mendelsohn. "The view doesn't hurt either, nor does the great tennis tradition and getting to work with a coach like Marcelo Ferreira."
The five-star recruit from Little Rock, Arkansas selected Pepperdine over offers from four other strong programs.
"The three things I was looking for in a school were a place I can grow as a person, a place I can grow as a student, and a place I can grow as a tennis player," he said. "Pepperdine had all three things - it's an unbelievable opportunity."
Mendelsohn started playing tennis at age 8 at Burns Park Tennis Center in Little Rock. By the time he was ready for high school, Mendelsohn decided to do online school and train at the Junior Tennis Champions Center, a USTA regional tennis facility in College Park, Maryland.
The move began a well-traveled journey to improvement for Mendelsohn. His next stop was the Dent Tennis Academy in Southern California. He eventually landed in Dallas, Texas, where he currently trains at the T Bar M Racquet Club.
In those years - from 2013 to present - Mendelsohn won two silver balls and two bronze balls, achieved a No. 2 ranking nationally by the USTA, and earlier this year was ranked No. 325 in the world by the ITF.
"I kind of got used to moving around being a competitive tennis player, because you have to travel so much playing nationals and ITFs," said Mendelsohn. "The toughest part about it all was having to skip out of the normal high school life. I am just competing and studying. I have time for friends and hobbies - but not as many as a normal high school student. But I love traveling, and I would not trade those experiences for anything. The sacrifices have been instrumental in helping me be the best I can be."