Recruiting Feature
Countdown to Signing Day
by Dallas Oliver, 10 October 2016
As the leaves continue to change, Signing Week is just on the horizon. November 9th is the first day of the one-week Fall Signing Period - the only opportunity this calendar year for high school seniors to sign a National Letter of Intent with a Division I or Division II school.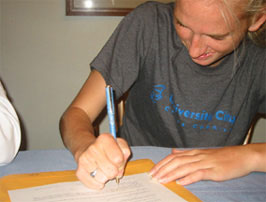 We are working hard to keep our college commitment lists (
boys
,
girls
) up to date, and there are new verbal commitments every day. However, those commitments are not official or binding. Several seniors who had made verbal commitments earlier this year have since changed their minds. November 9th is the first day when those commitments become official.
As always, TennisRecruiting.net and GAMMA are ready with a full slate of coverage - known as the Countdown to Signing Day. Our Countdown is a series of special articles over the next few weeks to keep you up to date on all the Fall signing happenings.
Take a look at our coverage schedule:
GAMMA Countdown to Signing Day Series
You can also follow the articles and top commitments on Twitter at #TennisSigningDay.
And there you have it... our preliminary Countdown to Signing Day coverage schedule. It all gets started tomorrow with the first of our commitment profiles featuring the University of Georgia women's recruiting class. Check back over the next month - and enjoy a courtside seat for the Countdown to Signing Day, presented by GAMMA!
Leave a Comment
More Website News
13-Aug-2018
Championship Week
The USTA National Championships have now concluded - and gold balls have been awarded to your latest national champions. All week long, TRN celebrates these winners - from the East Coast to the West Coast - with coverage of the Nationals. Enjoy the 2018 edition of Championship Week.
23-Jul-2018
Clay Court Championship Week
The USTA Clay Court Championships have concluded around the country. This week, TRN has wrap-up stories of all the action, from the Boys' 12s to the Girls' 18s, from Tennessee to Florida. Meet the latest gold ball winners of all ages during our coverage of Clay Court Championship Week.
22-Jul-2018
Fall Star Ratings Period Starts This Week
Twice a year, TennisRecruiting.net updates its Star Ratings - sometimes known as "The Stars". Our next update to the Star Ratings comes in late September - and those ratings will be based on players' highest rankings during the next eight weeks - from the week of July 23 to the week of September 10, 2018. We invite players to review their player records to ensure accurate ratings.