Recruiting Feature
Countdown to Signing Day
by Dallas Oliver, 10 October 2016
As the leaves continue to change, Signing Week is just on the horizon. November 9th is the first day of the one-week Fall Signing Period - the only opportunity this calendar year for high school seniors to sign a National Letter of Intent with a Division I or Division II school.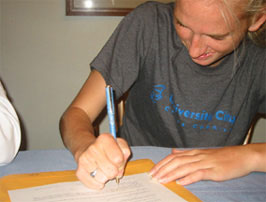 We are working hard to keep our college commitment lists (
boys
,
girls
) up to date, and there are new verbal commitments every day. However, those commitments are not official or binding. Several seniors who had made verbal commitments earlier this year have since changed their minds. November 9th is the first day when those commitments become official.
As always, TennisRecruiting.net and GAMMA are ready with a full slate of coverage - known as the Countdown to Signing Day. Our Countdown is a series of special articles over the next few weeks to keep you up to date on all the Fall signing happenings.
Take a look at our coverage schedule:
GAMMA Countdown to Signing Day Series
You can also follow the articles and top commitments on Twitter at #TennisSigningDay.
And there you have it... our preliminary Countdown to Signing Day coverage schedule. It all gets started tomorrow with the first of our commitment profiles featuring the University of Georgia women's recruiting class. Check back over the next month - and enjoy a courtside seat for the Countdown to Signing Day, presented by GAMMA!
Leave a Comment
More Website News
3-Jan-2019
Spring Star Ratings Period Starts Next Week
Twice a year, TennisRecruiting.net updates its Star Ratings - sometimes known as "The Stars". Our next update to the Star Ratings comes in mid-March - and those ratings will be based on players' highest rankings during the next eight weeks - from the week of January 7 to the week of February 25, 2019. We invite players to review their player records to ensure accurate ratings.
12-Nov-2018
Signing Week 2018
With the Countdown now behind us, it's time for the main event. Tennis Recruiting and GAMMA are ready to kick off our coverage of Signing Week 2018 with a final look at the Blue Chip boys and girls.
15-Oct-2018
Countdown to Signing Day 2018
It's that time of year. We are less than a month away from the most important day on the college tennis recruiting calendar - Signing Day. November 14th is the opening of the signing period, when seniors can begin signing a National Letter of Intent with Division I and Division II schools. As always, the Tennis Recruiting Network is here to keep you up to date on everything.