Commitment Announcement
Extended Travel Plans Leads Alshon To Virginia
by Rhiannon Potkey, 1 February 2018
Christian Alshon was pretty sure he'd found his future school. The blue chip junior had just taken another visit to Duke and was impressed with everything the Blue Devils had to offer.
As Alshon prepared to return home to Florida, his mother, Nina, made a suggestion. Since they were already in the area, why don't they try and visit the University of Virginia.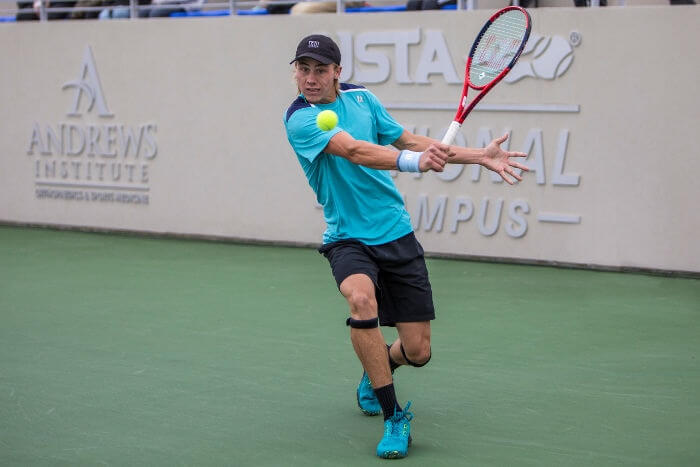 Blue Chip Junior Christian Alshon Has Committed To Virginia
© Jeff Davies/USTA
Alshon had made many trips to colleges over the last few years while traveling for tournaments.
Alshon's parents wanted him to explore every option possible to help compare his choices comprehensively before making a decision.
Alshon sent a message to Virginia coach Andres Pedroso asking if it was a good time to come see the defending NCAA champion program. Once he received a positive response, Alshon headed straight from Durham, North Carolina to Charlottesville to tour Virginia's campus.
"I was already thinking that I loved Duke, and I do still love Duke. But everything about Virginia was amazing," Alshon said. "Right when I went there, I knew that is where I wanted to go. I knew if I didn't go there I would probably be sad and always regret it if I went somewhere else."
Alshon, 17, verbally committed to Virginia two weeks ago after receiving his pre-admittance approval.
"Once I got to Virginia, I had never seen a coach as interested in me as Andres was," said Alshon, who captured the Boys 18s title at Winter Nationals last month. "He really cared about my life and about the way he talked to me about my goals and my future. He genuinely cared and wanted the best for me. He wasn't just saying what I wanted to hear."