Commitment Announcement
Yarlagadda Takes A Balanced Approach To UNC Commitment
by Rhiannon Potkey, 13 February 2018
The number that put the University of North Carolina over the top for Anika Yarlagadda wasn't the eight ACC titles or two national indoor championships or Top 10 ranking.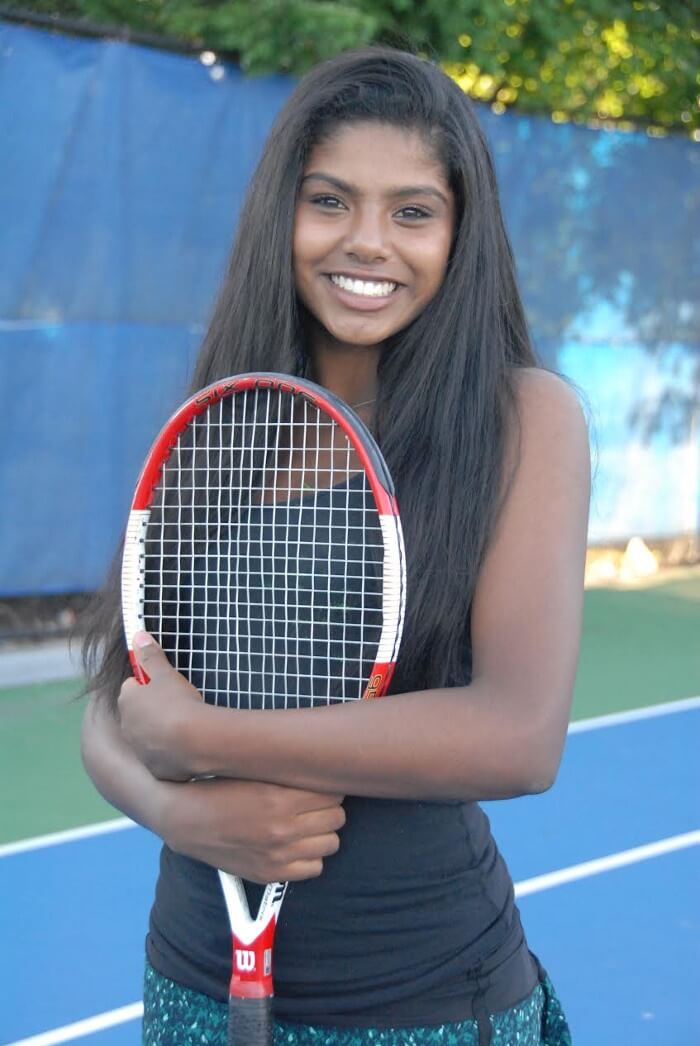 Blue Chip Junior Anika Yarlagadda Has Committed to UNC
It was 90 - the percentage of UNC students applying to medical schools that are accepted, according to a CollegeMagazine.com article that ranked UNC as the No. 1 university for pre-med students.
"It was a big thing for me to walk into a school where 90 percent of kids there that want to go to medical school would have that chance," she said. "It was hard for me to decide where I wanted to go, but that really stuck out to me."
Yarlagadda committed to North Carolina during a visit to campus on Jan. 26. It was her second trip to the school, and the blue chip junior arrived knowing she would tell head coach Brian Kalbas about her plans to become a Tar Heel in 2019.
"I wanted to do it in person instead of by phone. Coach Kalbas had no idea. No one else knew," said Yarlagadda, a West Bloomfield, Michigan native. "He was happy when I told him, and I cried. I was tearing up and my dad was so happy. I got so many hugs from everyone around there."
Although Yarlagadda made academics a high priority in her search, she didn't want to sacrifice the chance to play for a major athletic program.
"My parents wanted me to go to a very good academic school where I would be more in the books than on the tennis court. But just from growing up with tennis being such a big part of my life, I couldn't go to a school and completely flip that around," she said. "North Carolina was perfect for me to be able to do both."
Yarlagadda began corresponding with UNC during her sophomore year after she and her principal at West Bloomfield High sent emails to her top 10 schools. She visited UNC for the first time two months ago.
"The coaches were beyond anything I ever expected. They were so kind showing me everything when I visited," she said. "They gave me the statistics about girls that came into the program and had done amazing things, girls that started near the bottom of the lineup and then were playing No. 1 by their senior year. They improve you tremendously."
Yarlagadda's parents immigrated to the United States from India before she was born. Her father, Pattabhi, played tennis for a college in India and her grandfather was on a national team in India.
Her father built a mini-tennis court in the basement of their West Bloomfield home and Yarlagadda always asked to play.
"From the time I was 3, it would be just me and him hitting down there," she said. "It was our thing and it was so much fun. I have loved tennis ever since then."
Yarlagadda began taking formal lessons at a tennis club right behind her house, where she continues to practice there to this day.
She won her first tournament in a local event, and realized she might have a future in tennis.
"I felt like 'I can do something with this. I am not that bad,'" she said. "I just started to play more and more because I was having so much fun."
Yarlagadda began taking lessons from Armand Molino when she was 11, and he has remained her private coach.
"Anika is an excellent competitor. Her mechanics overall are good and we are working on her being more aggressive and developing a bigger serve and getting her opponent on the defensive," Molino said. "We try to watch the best in the world and take things away from what they do well and try to add those to her game. But Anika's biggest strength is she competes really well and is passionate about tennis. She loves to win and hates to lose."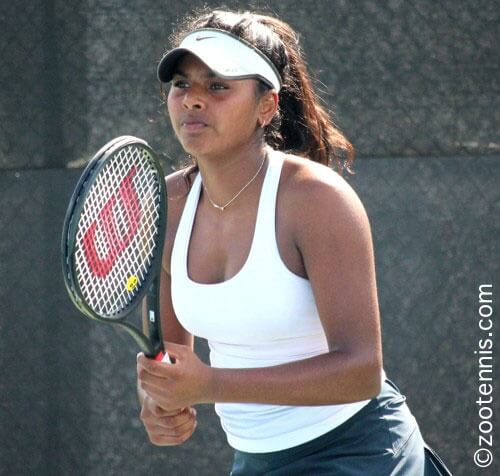 Anika Yarlagadda Never Sacrifices School For Tennis
© Zoo Tennis
Even as Yarlagadda rose up the rankings, she never wanted to sacrifice everything for tennis. She values academics and having a normal teenage life.
Compared to other high-level juniors, Yarlagadda's hours on the court are minimal. She practices two hours a day at most and works with a trainer on fitness for an hour some days. Last year, she took several Advanced Placement classes and missed many days of practice to study.
"It's very chill and I like it that way. I have a balanced life and still can hang out with friends. I can play tennis and do school," Yarlagadda said. "I would never be homeschooled or quit school because I believe you need that social aspect to be a complete person. School is a lot of work and it's helped me organize my time and be more prepared for what college will be like."
Yarlagadda is involved in student leadership at her high school and helps with homecoming and other activities. For the last seven years, she's volunteered at a nursing home nearly every Saturday for four hours.
"I usually wheel people to their rooms and play puzzles with them or just hang out. I color with them or read books for them," she said. "They don't have anyone there for them, so it's good to have someone for them to talk to."
Yarlagadda has been inspired by her mother, Sushma, who went back to college in her 40s to get her Physician's Assistant degree. Sushma lived away from home for parts of three years to attend Grand Valley State University.
"She wanted to make more money for our family so we could travel more for tournaments. She has done so much for us," Yarlagadda said. "I am so thankful because I know it was hard going back to school when you are that age. But she did it for us."
Having watched her mom working at an Urgent Care and Family Practice, Yarlagadda knew she wanted to follow in her footsteps in the medical field.
"I go to her office all the time and love what she does. She talks with people and knows all of her patients," Yarlagadda said. "I really want to do work where I am helping people like she does. She is so happy at her job."
Molino appreciates how Yarlagadda prioritizes everything in her life and strives to be a well-rounded teenager.
"She is a very interesting, multi-layered person. She is very bright and she is tremendously coachable. She has got a real zeal for life and she loves tennis," Molino said. "It sounds cliché, but if I had a daughter I would want someone just like Anika. She is a terrific kid."
Yarlagadda could have waited before committing to UNC. But once she sorted through her options, she didn't see a reason to prolong the recruiting process.
"I just wanted to have it over with. I knew I wanted to go there since November," she said. "I had looked at literally every Division I school in America by that point and researched them all. I knew I wanted to go to Carolina."
Having the decision made won't change Yarlagadda's approach to her tennis She plans to practice with the same tenacity and play the same tournament schedule.
"This actually motivates me to play better because I know the team is really good and if I want to play in the lineup I have to be playing well," she said. "I have to keep working hard and try to get better before I get there."
Leave a Comment
More Recruiting Profiles
1-Feb-2018
Extended Travel Plans Leads Alshon To Virginia
Christian Alshon took his mother's advice and decided to extend a recruiting trip. The blue chip junior made a visit to Virginia and instantly knew he'd found the right college for him. Alshon verbally committed to play for the defending NCAA champion Cavailiers.
25-Jan-2018
Kotzen Goes Back To His Roots With Columbia Commitment
Blue chip junior Alexander Kotzen engaged in a thorough recruiting search, visiting 10 schools and hiring a consultant to help research his options. In the end, Kotzen decided to commit to Columbia, which is located only a few blocks from where he attended elementary school.
16-Jan-2018
Shvets Feels Right At Home At Princeton
Brianna Shvets used to drive by Princeton University with her parents when she was young and wear Princeton T-shirts during her matches. Her longtime dream of playing for her hometown university has become a reality. The blue chip senior from New Jersey has committed to Princeton and received her acceptance letter.
About Rhiannon Potkey
Rhiannon Potkey is a veteran sportswriter with more than two decades of experience in journalism. Potkey has covered many sports at many levels and has a passion for finding great stories. Potkey has covered the U.S. Open, junior sectional and national events, college conference championships and Davis Cup matches. Potkey is currently Content Strategist for Tennis Recruiting.