Tournament Summary
Day, Auger-Aliassime Win US Open Singles Titles; Shibahara and Hart Capture Doubles
by
Colette Lewis
, 16 September 2016
After American boys dominated the 2015 US Open Junior Championships, US girls were the story of the 2016 tournament, with two championship performances providing a fitting ending. Kayla Day defeated Viktoria Kuzmova of Slovakia 6-3, 6-2 in the singles final, and wild cards Ena Shibahara and Jada Hart won the girls doubles championship, beating Day and Caroline Dolehide in a dramatic all-American final.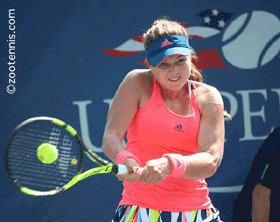 Canada claimed its second straight boys junior slam title, with
Felix Auger-Aliassime
defeating Serbia's
Miomir Kecmanovic
6-3, 6-0 in the championship match, while the unseeded South American team of
Juan Carlos Manuel Aguilar
and
Felipe Meligeni Rodrigues Alves
took the boys doubles title.
In addition to Day, nine US girls made the round of 16: Ashley Lahey, Amanda Anisimova, Taylor Johnson, Usue Arconada, Vanessa Ong, Alexandra Sanford, Kylie McKenzie, Sonya Kenin and Carson Branstine, a record number since the draws were expanded to 64 back in 1984. Wild card Branstine and lucky loser Ong joined Kenin and Day as quarterfinalists, with Kenin, who reached the 2015 girls final, falling to Kuzmova 6-7(2), 7-5, 7-6(3) in the semifinals.
Day, a 16-year-old from Santa Barbara, California, had had her own grueling semifinal against Canada's Bianca Andreescu, who had beaten her last December in the Grade A Metropolia Orange Bowl final. Day came back to defeat Andreescu 5-7, 6-1, 6-2, but Day had a doubles final to play that same evening, and it was 9 p.m. before her time on the New Grandstand court at the USTA Billie Jean King National Tennis Center was complete.
Day was distraught by her performance in Saturday night's doubles final, which saw Shibahara and Hart save two match points, one on a Day double fault, to win 4-6, 6-2, 13-11. But when she came out for Sunday afternoon's final, in conditions noticeably less hot and humid than the previous three days, that disappointment was nowhere in evidence.
"I think I was really able to mentally set aside what had happened last night and just move on, because I knew I had a really important match today," said Day, who played aggressively, but avoided unforced errors. "I knew I had to forget about it and that's what I did. I'm pretty good about leaving the past behind me and just focusing on being in the moment."