Slow Going
When we visited with the boys last week, we noted that eighteen of the 28 Blue Chip boys had made commitments.
On the girls' side, we have 28 Blue Chips as well, but they seem to be taking their time with their college decisions. To date, only ten girls - just over half the number of the boys - have announced their commitments.
Double Dawg Dare
Georgia coach Jeff Wallace has not had any issues on the recruiting trail so far. He has already attracted two of the nine committed Blue Chip girls to Athens for Fall 2017.
We already heard from the two commits - Morgan Coppoc and Annette Goulak - in a profile piece earlier this month.
SEC Leads Way
The ten committed girls are heading to schools in three conferences, with the SEC gaining the lion's share.
In addition to two commits heading to Georgia, Blue Chip girls have committed to Auburn, Florida, and Vanderbilt - with the SEC laying claim to five of the ten recruits.
Close behind the SEC is the Big 10 with three Blue Chip commitments, while the PAC-12 and ACC each have one.
War Eagles Keep Meredith
When a family has deep ties to a college, the kids usually have a natural attraction to that school. That was not the case for Blue Chip senior and Birmingham native Madeline Meredith.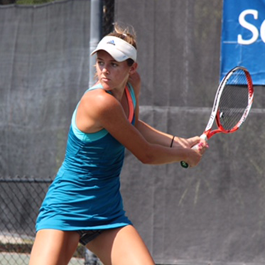 "It's funny. Almost everyone in my family has gone to
Auburn
- my mom, my grandfather, my grandmother, my aunts and uncles," said Meredith. "I have been raised on Auburn football. But, because of this I wanted to go
anywhere
but Auburn. When I first started looking at schools I didn't even want to visit Auburn because I wanted to move and play tennis far away from home."
But Meredith had meetings with the AU coaching staff that changed her mind.
"I met [Assistant Coach] Chris [Hooshyar] and [Head Coach] Lauren [Spencer]. I really didn't even want to like them," joked Meredith. "But I liked everything they talked about. I agreed with all their philosophies about tennis and collegiate athletics."
Spencer and Hooshyar took a measured but effective approach in their recruiting of the top-ranked Alabama senior.
"They let me know very early that they wanted me to join the Auburn program, but they never pushed me into making an early decision," Meredith continued. "I think that deep down they knew I was going to choose Auburn, but they never put any pressure on me to make that decision until I was ready. I talked to both coaches a lot during my recruiting time and felt a deep connection to both of them."
Meredith loved the coaches and the team, but the academic offerings at Auburn sealed the deal.
"I really liked just about everything about the team, but I was torn because I didn't want to stay in Alabama. Then I found out that Auburn has one of the best aeronautical and flight programs in the United States. There was no other school that had great tennis, awesome coaches, and the field I wanted to major in."
The Tigers, who also picked up a Blue Chip commitment last year in Taylor Russo, are getting an experienced player in Meredith. Over the past year, the 6'1" right-hander reached the semifinals of the Atlanta ITF, was a finalist at the Southern Closed, posted a 3-1 record in the USTA Girls 18 National Team Championships, and won four matches at the Girls 18 Nationals in San Diego.
But Meredith's favorite tennis moment comes from a long time ago.
"I am probably the most proud of my first Southern Closed win. I was twelve years old and had never won a big tournament before. I never even considered myself in the running for that tournament. I don't think I was even seeded. I beat the No. 2 seed in the second round, and I remember making a decision after that match that I was going to win that tournament. I was determined, and I did it. My family had a big cookie cake waiting for me when I got home. I ended up wearing the same purple tennis outfit that I wore in the finals in every tournament for the next four years."
Meredith also has big plans when she arrives on campus next Fall.
"I would love to earn All American my freshman year. I would also love to be part of an NCAA championship team. That would be the greatest accomplishment."
Keberle Stays Home
Kelcy McKenna was named head coach of the women's tennis program at the University of Wisconsin on July 1, and she is arriving at an excellent time. Lexi Keberle, from nearby West Bend, Wisc., is the first Blue Chip recruit to commit to Wisconsin in the history of the program.
Of course, it didn't hurt that Keberle is a household name in Wisconsin junior tennis.
"I wanted to play for my state," said Keberle. "Nielsen Stadium - where the Badgers play - is the same place I won two high school championships the two years I played in high school. Now I get to play there for four more years."
Wisconsin last won the Big 10 title in 1996, and their most recent NCAA Tournament appearance came in 2005, but Keberle is excited to be part of a new chapter in Badger tennis.
"I hope I can bring attention to Wisconsin tennis by helping the Badgers be a top team in the Big 10 and getting them to the NCAAs. Boys in Wisconsin want to be Badger football players, and I'd love to have girls ten and under make playing for the Badger women's tennis team part of their dreams."
Keberle was articulate about her excitement for the new coaching staff.
"The fear of committing early for a player is, 'will the coach be around?' I committed in August before my junior year, developed a strong relationship with the former coach, and suddenly she was gone.
"But one of the great things about top D-I schools like Wisconsin is the AD, and Barry Alvarez is one of the best. He's committed to winning in every sport - which starts with finding top coaches dedicated to winning. He brought in [Head Coach] Kelcy McKenna and [Assistant Coach] Megan Falcon. They were top NCAA players, are young, incredibly focused and will take Badger tennis to another level."
Keberle appreciates the time and effort McKenna and Falcon have put in early in their tenure.
"As busy as they were this summer, [the coaches] came and watched me play at a number of tournaments," she continued. "Winning as a team obviously means each player must be successful, and that is their philosophy. They want to help every player reach their potential. I cannot wait to get on the court with them."
Keberle will bring a tremendous work ethic to Madison, which she learned during her years as a competitive soccer player.
"I had the same soccer coach for nine years - from age five to fourteen. My coach taught me that demanding excellence of yourself every minute while practicing is the one thing that successful athletes and teams have in common.
"The USTA and TRN are junior tennis for kids in the US. If you are a serious player, you compete in tournaments and evaluate your level of play. When I was thirteen and my primary sport was still soccer, I didn't know what TRN was - and I barely knew what the USTA was. But I learned quickly in my first L2 tourney in Ohio - where I drew the No. 1 seed - how good the players were. I'm most proud of the fact that my goal when I started USTA - as a 2- or 3-star - was to compete with the players who were just ahead of me. Now that I have become a 'blue chip', I have the utmost respect for every one of them, their passion and dedication, as I know how hard they worked to earn and stay at the 'blue chip' level."
Here and There
Scattershooting through the list...
Power Up: The numbers are small so far so as to be somewhat anecdotal, but all ten commitments from Blue Chip recruits are to schools in our Power Six conferences.
Close to the Vest: As you can see from the chart, most Blue Chip girls who have not yet committed have not revealed schools of interest. We anticipate some girls to remain that way for some time as they ponder professional tennis options.
Feast and Famine: Illinois welcomes its first Blue Chip commitment since 2011 in Asuka Kawai. On the flip side, Michigan has attracted at least one Blue Chip prospect for the past four years.
No Place Like Home: Five of the ten committed Blue Chip recruits are heading to in-state schools. That is a good sign for California programs since there are five uncommitted Blue Chip recruits from that state.
Update During Signing Week
As we mentioned last week, it is still early, and we expect many of these young women to make decisions about their future very soon. We'll stay in touch with all the Blue Chips to keep our commitment list up-to-date.
And we'll be back with another roundup article right before Signing Day.
Countdown Keeps Coming ...
Our Countdown continues tomorrow morning when we hear from Five-Star senior Alex Angyalosy of Boca Raton, Fla., who has committed to the Texas Tech Red Raiders. Check out that article - and all the other great content that TRN and GAMMA have for you in our Countdown to Signing Day!
About GAMMA
GAMMA is proud to sponsor the Countdown to Signing Day series of articles at TennisRecruiting.net.
Greatness is a Unique Path at GAMMA

GAMMA is a privately owned company with over a 40-year history of developing innovative products for players of all levels. Best known for GAMMA high performance irradiated tennis string, today GAMMA markets and sells an entire line of over 5,000 products including GAMMA racquets, strings, racquet accessories, tennis balls, grips, vibration dampeners, Ball Hopper® ball baskets and teaching carts, court equipment, and 10 and Under teaching aids.
Connect with GAMMA on Facebook, Twitter, Instagram, and YouTube - or on their website.
Leave a Comment
More Roundup Articles
23-Oct-2017
Countdown: Blue Chip Girls
With Signing Day just around the corner, things are heating up on the recruiting trail. We reported on the boys last week - but today we check in the top girls. Check out the status of the Blue Chip girls in the Class of 2018 ...
20-Oct-2017
Countdown: Air Force Class Ready To Serve
Their commitment goes far beyond just tennis. The members of this year's Air Force men's recruiting class are committing to serve their country. Some have relatives in the military and others were inspired by friends. The diverse group is ready to work together on and off the court.
19-Oct-2017
Hot 100 List - October '17
Today we announce the October edition of the Hot 100. The Hot 100 features 100 boys and 100 girls who have been playing outstanding tennis. These players have substantially improved their rankings over the past month.