Commitment Announcement
Fall Signing Week '16: Tsygura Commits to the Cavaliers
by Sonny Dearth, 9 November 2016
The Scott Brown connection again is reaping recruiting rewards for men's college tennis' best team of the decade.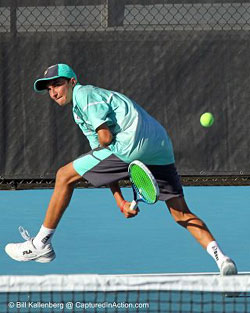 With Brown, a former
Virginia
assistant coach, as the matchmaker, Blue Chip 17-year-old
Kyrylo Tsygura
of North Potomac, Md., has committed to play for the Cavaliers.
UVa has won three of the last four NCAA team championships. The way head coach Brian Boland is recruiting, the Cavaliers will have a realistic chance to drape more banners in Boar's Head Sports Club, their indoor home in Charlottesville.
Tsygura, ranked eighth nationally and No. 1 in the USTA/Mid-Atlantic Section in the Class of 2017, won the International Tennis Federation Grade 4 Copa Badia 18-and-under tournament in April in Coral Gables, Fla. He capped a run of six victories with a 6-2, 6-0 rout of top-seeded Alexandre Rotsaert. That triumph came over the player who beat Tsygura in a 2015 USTA National Boys 16 semifinal in Kalamazoo, Mich.
Tsygura, who grew up playing soccer, said his tennis journey began at age 9 when he played in a Maryland park with his mother. When he was 10, Tsygura's parents signed him up for lessons about once a week at the Junior Tennis Champions Center in College Park, Md.
"When I was 11 or 12, I stopped playing soccer," he said. "I started going (to the JTCC) three times a week. When I was 14, I started doing it pretty much every day, training more and more."
He emerged as a budding star in 2013, reaching the 14s semifinals of the USTA Clay and Hard Court Championships before getting to the Orange Bowl semis that December.