Commitment Profile
Fall Signing Week '16: Colorado's Ross Commits to Dartmouth
by
Gary Curreri
, 7 November 2016
It all started around the age of two for Casey Ross.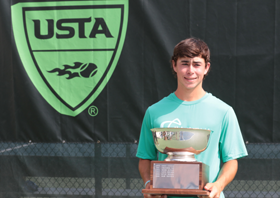 That's when the 18-year-old Ross from Littleton, Colorado started "playing tennis" in a tennis-playing family. His father Randy has coached him for all of his life and did the same with his older brother Cory, 34, who played collegiately at
LSU
.
"I would walk around with a special squash racket by cutting down the grip, and swing at balls," said Ross, a senior at Kent Denver School where his father is still the varsity coach. He's attended the private school since the seventh-grade.
Ross, a 5-star recruit recently verbally committed to Dartmouth and said he likes the competitive aspect of tennis and is looking forward to playing for the Big Green.
"Once you step on the court it really is just yourself out there, trying your hardest to do your best," Ross said. "The fight is the best part. I like practicing and just hitting balls. Every time you go on the court you learn something new. There is a lot of time that you have to put into it, but since I love it, I don't really view the time commitment as a challenge. Keeping up with school and homework can be pretty difficult sometimes though."
Ross said there are several factors to consider when he's playing in a match.
"When I am out there on the court I always try to think how I can be doing better while still having fun," Ross said. "As the match progresses I always try to keep improving, but when I'm having a good time I'm actually playing my best."
Among the many accolades for Ross included the 2015 Colorado Tennis Association Male High School Player of the Year. He went 70-5 in his high school tennis career and won three state championships (No. 3 singles in 2013 and No. 1 singles in 2015 and 2016). The Sun Devils won state titles as a team all four years.