Commitment Profile
Fall Signing Week '16: Georgetown Gains 5-Star Recruits Lee, Ross
by Clair Maciel, 11 November 2016
Next year, Georgetown University will field a strong roster that will include the addition of two 5-Star Recruits - Connor Lee from San Marino, Calif., and Luke Ross from Sewickley, Penn. Both recruits have committed to joining the Hoyas men's tennis team in Fall 2017. While the two players will be traveling from opposite ends of the country, they share a common goal in taking the Georgetown team to the next level as teammates.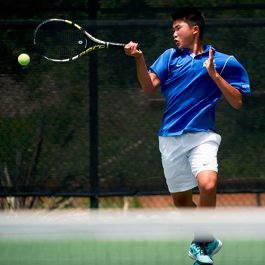 Prior to his decision to make the cross-country move to Washington, D.C., Lee had considered a few Ivy League schools as well as Division III schools, but fond memories from a visit to the Georgetown campus nearly ten years ago confirmed his decision.
"When I was in fourth grade, my family went to D.C. so that my brother could visit Georgetown, and after seeing the campus, I loved it. I knew right away that I wanted to go there - it felt like the perfect school. Ever since then, I've always been a huge Georgetown fan. So when it came time for me to decide on a school, Georgetown stood out as the one with the perfect atmosphere, and I'm really excited to be able to go there."
Without a doubt, the Hoyas tennis team will be gaining a solid recruit in Lee, who hopes to bring the same competitive drive that has made him one of the Top 20 recruits from the competitive state of California. But his road to reach this point in his tennis career hasn't always been so smooth.
For a period that spanned from his sophomore year in 2014 until October 2015, Lee said he reached a point in his game where he had no motivation and struggled to play well. But it was one match in particular that changed his entire tennis mentality for the better.
"During one of my matches at regionals, I was ahead by a pretty big lead and ended up losing, which was extremely disappointing because I couldn't close it out," Lee said. "But I learned a lot from that experience, and I learned that I needed to play smarter. It was like a wake-up call for me. After that, I was more driven, I worked harder, and I haven't choked since. As I gradually began beating more opponents, it helped build my confidence."