Commitment Announcement
Fall Signing Week '16: Rice Follows Mother's Footsteps to Arkansas
by Rick Limpert, 9 November 2016
Add another legacy to the storied history of the University of Arkansas as Blue Chip senior Tatum Rice of Lakeside High School in Hot Springs, Ark., will stay in state and play tennis for Coach Michael Hegarty at the U of A.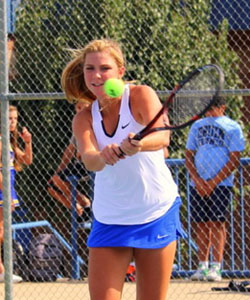 While on the surface this may have seemed like an easy and logical decision for the 17-year old right-hander, Rice said it was a difficult choice.
It was difficult because her mother, Tracy Webb Rice, was the starting point guard for the Lady Razorbacks from 1983-87, a time the team earned its first NCAA Tournament berth and won the National Women's Invitational Tournament. Tracy, after leading her teams to four consecutive 20-win seasons, was the fourth Lady Razorback inducted into the Arkansas Sports Hall of Honor.
"It was hard," said Tatum. "I was trying to decide whether to stay in the state [of Arkansas], but in the end I decided that Arkansas is my home and where I felt the most comfortable."
Rice, who will be graduating from Lakeside High School this spring, didn't feel any extra pressure from her mom or anyone else in this sports-crazy state.
"She tried not to say much about my decision," Tatum added. "She was happy, and she hopes I do better than she did there. It actually inspires me since she did so well. I have to go with it and do the best I can do."
Rice is a rare bird when it comes to Blue Chip tennis recruits. She plays two sports in high school - tennis and basketball. Two-sport stars are rare in an era where many top tennis recruits do not play sports at all for their high school teams.
For Rice, who attends school each day all day, its basketball practice until 4 pm, then a brief break before 90 minutes of tennis. It's all part of a three-fold approach.
"The basketball helps me with speed and endurance," states Rice. I also like being part of a team."