Who's Hot?
Hot 100 List - January '17
by Amelia Thomas, 16 January 2017
The ratings period is in progress at Tennis Recruiting, where junior players will earn Spring Star Ratings based on their highest rankings over an eight-week period. We take a look at a few players who climbed the ranking charts over the past month in the January edition of the Hot 100.
The Hot 100 lists are published each month, and the January Hot 100 lists feature the one hundred boys and girls who most improved their rankings during the month of December. You can find out more about the Hot 100 - and how the lists are calculated - by reading here.
The latest lists, published today, are available here:
Let's take a look at some of these top performers...
Roundup
Lucas Guy (Portage, Mich.)
Three-star sophomore Lucas Guy - who projects to be a 4-Star recruit when the new ratings come out - credits his recent growth to a focused change of demeanor on the court.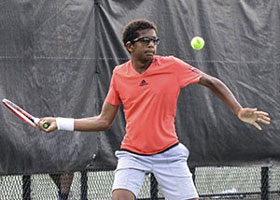 "I have been trying to find the best way to compose myself on court, and this month I seemed to find the best attitude to play my best tennis," he said. "I have also worked so hard on finding new ways to improve with my coaches - and spent a lot of time working on my fitness."
Guy describes himself as an aggressive baseliner. "I like to dictate the points with my serve and groundstrokes," he said. "I also consider myself a good mover around the court. I am currently working on closing points up at the net."
Last month, Guy competed in two tournaments. He reached the semifinals of a USTA Midwest Level 2 Tournament in Dayton, Ohio, and won a title at the USTA Midwest Level 3 Winter Championships in Cincinnati. Guy has achieved a career-high ranking of No. 174 in his class, which puts him into four-star territory.
The six-foot-one player said his best match of the month came in Dayton. Unseeded, Guy met four-star sophomore Niraj Komatineni in the round of 16.
"During the match, we were both playing at a high level at different points. One of us would play a great game to get the break, and right away the other would get it back," Guy said.
It came down to one break in both sets, and Guy took the match, 6-4; 6-3. "Overall it was a great match from both of us - as well as great sportsmanship," he said.
Guy believes that his training schedule sets him apart from other players at his level. He travels three and a half hours once a month to Indianapolis to train three to four days at a time with his coaches, Jeff and Bryan Smith of Smith Tennis.
Guy still manages to balance his responsibilities and the rigorous training schedule. He maintains a 4.0 GPA and has received numerous academic awards, as well as three citizenship awards from his school, Portage Central High School.