Commitment Profile
Countdown: Taylor Bridges Commits to the Wolfpack
by Todd Holcomb, 22 March 2017
Taylor Bridges, a top-50 national recruit from Mesa, Ariz., signed with N.C. State and coach Simon Earnshaw in November.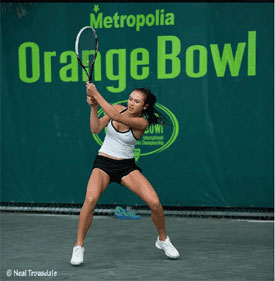 Bridges is the daughter of Steve and Emie Bridges. She trains with Taylor Dent and Phil Dent at the
Dent Tennis Academy
in Keller, Texas.
Bridges is coming off a successful year in which she was a singles finalist at the Wilson Canterbury ITF in New Zealand. Also in New Zealand, where she spent a month, she won the doubles title at the Tecnifibre ITF Tennis Central Championships with Tharubphet Homkrun, a New Zealander.
Bridges was a doubles finalist at the USTA International Grass Court Championships in Philadelphia with Mimi Levine and at the Wichita Falls ITF in Texas with Sydney Jones. She was a doubles semifinalist at the ITF Grade 1 Coffee Bowl in Costa Rica with Julia Goldberg and the bronze-ball winner in doubles at the USTA Winter Nationals in Scottsdale, Ariz., with Tatum Rice.
TennisRecruiting.net spoke with Bridges this month. She talked about her goals for college tennis and assessed her game's strengths and weaknesses. She told us about the time that she quit tennis and what brought her back. She reflected on her tennis trips to New Zealand and Costa Rica, the earthquake and her hamburger diet. And she had advice for current junior players who want to play at the next level.
Questions and Answers
Tennis Recruiting (TRN): Congratulations on signing with N.C. State. Why did you pick the Wolfpack?
Taylor Bridges (TB): I chose N.C. State because of Simon [Earnshaw] and Gina [Suarez-Malagut, the assistant coach]. They are amazing coaches, and I feel like they were true and honest with me in the recruiting process and understood me and my goals. When I went on my official visit, I absolutely fell in love with the school. The area is great. There is a lot happening, and I could envision myself there while I was walking around campus.