College Feature
After Army Stint, Botzer Grateful for Opportunity at Wake Forest
by Rhiannon Potkey, 17 May 2018
Bar Botzer was ready to walk away from tennis for good.
After serving three years of mandatory military service in the Israel Defense Forces, Botzer didn't have the money or resources to continue playing competitively. The Tel Aviv native planned to enroll in a university in Israel and study business.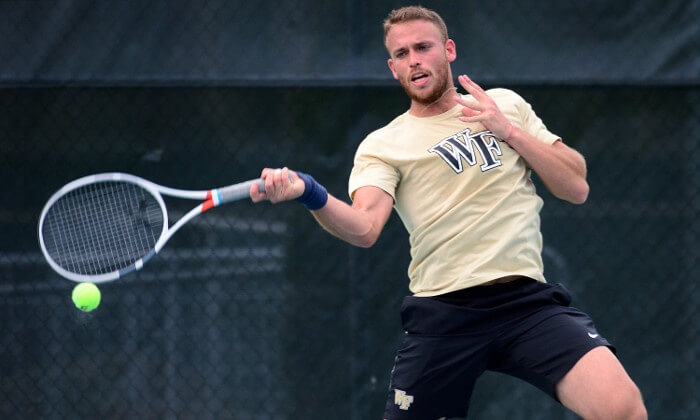 But a friend's father suggested Botzer look into attending college in the United States, where he could study and still play the sport he loved.
"At first, I didn't think that was an option. I thought I was too old to be eligible to go to college in the United States," Botzer said. "I didn't know how it all worked. But I started looking around and checking to see if I could get eligible."
As Botzer scanned the Wake Forest men's roster, he recognized a familiar name. Botzer played Wake Forest assistant coach Chris Eaton in Botzer's first professional tournament at age 14 when he competed in a Challenger event in Israel.
Botzer reached out to the Demon Deacons, and discovered they were interested in having him join the program. After an extra year of waiting to ensure his eligibility, Botzer is a 24-year-old freshman this season trying to help top-seeded Wake Forest capture its first NCAA title.
The Demon Deacons are hosting the NCAA Championships this week in Winston-Salem, North Carolina. They play No. 16 seed Columbia in the Sweet 16 on Friday.
Botzer is 33-6 overall in singles and 23-7 overall in doubles - the second most wins on the team in both categories. He currently boasts a 14-match singles winning streak, with his last loss coming on March 21.
"Bar has brought a unique perspective. He is a bit more mature and really has a good appreciation of what we do in college tennis and the resources we have," Wake Forest head coach Tony Bresky. "I think it's very refreshing for the guys to talk to him about his experience, and it's really nice for them to bounce ideas and information off him."