Commitment Profile
Countdown: Katya Tabachnik Rides with the Broncos
by Rhiannon Potkey, 15 March 2017
Katya Tabachnik was carefully considering all her options when she had a "breakthrough" moment in her college recruiting process.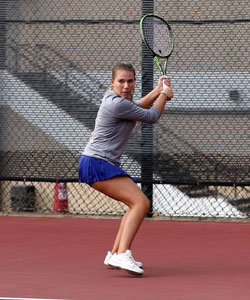 After focusing on the smaller details of each school, she gained clarity by looking at the bigger picture.
"I think the most important thing to me was taking a step back and thinking of where I would actually be the happiest in college and not just what was the best tennis or who had the best educational program," Tabachnik said. "Obviously all that is really important. But I realized if I was going to be somewhere for the next four years I wanted to be happy."
Tabachnik, a San Francisco native, chose to stay close to home by committing to Santa Clara University. The Jesuit university in the Silicon Valley provided the right mix of elements the five-star recruit was seeking for her future.
"I wanted to find somewhere I could have balance. Obviously it is still college and I want to be able to enjoy my life every now and then," she said. "Santa Clara is a really strong academic school and a Division I tennis school and I also can still have some time to hang out with people and just be a normal college student."
Tabachnik's parents immigrated to the United States from Russia. Although she was raised in a different country, Tabachnik inherited her family's interest in tennis.
"Every single Russian person I know always started with tennis. That is just kind of how it was," Tabachnik said. "My grandpa played tennis and he kind of taught me some of the basics. Same with my dad. He played tennis growing up as well and still plays now."
Tabachnik dabbled in other sports like gymnastics and soccer while growing up but eventually focused on just tennis. She enjoyed being on the court and saw how much pride it brought her family, especially her now-deceased grandfather, Ben Tabachnik.