Commitment Profile
Countdown: Ysabel Gonzalez Rico finds the Right Fit at Emory
by Rick Limpert, 29 March 2017
From starting to play tennis at the age of five, to ballgirl at the French Open, then moving to the United States while in high school and now committing to play her college tennis at Emory University, Miami's Ysabel Gonzalez Rico has come a long way in a relatively short period of time.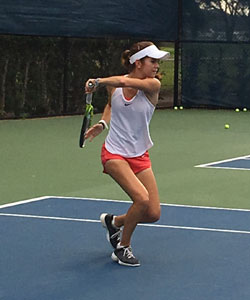 "At 15, I moved to the US during my sophomore year," explained Gonzalez Rico. "I started from zero with nothing and had to build a ranking. I know it was late, but the recruiting process for me started second semester of junior year."
That's not to say Gonzalez Rico didn't have a wealth of tennis experience. She knew what she was looking for when it came to picking a college.
"I was looking at Ivy League and some D-III schools - and a few other D-I options."
Gonzalez Rico said no school could match the combination of academics and tennis tradition along with the balance of practice and normal college life that Emory offered.
"Emory has the academics, and they treat tennis like a D-I program. They practice and have fitness almost every day, but the most important thing to me is academics. It was just a perfect fit for me, with a great tradition, a beautiful campus and shared values amongst the team."
Gonzalez Rico said an organized head coach was also very important on her "wish list."
At Emory, it all starts at the top with head coach Amy Bryant. Bryant is the first female and fifth person overall in NCAA history - in any division - to win the national team championship as a coach and player. As a coach, her squads took titles in 2003, 2004, 2005, 2006, 2014 and 2016. As a player, she was part of the 1996 team championship.
"Coach Bryant seems well organized and has a plan, and I'm that type of person," stated Gonzalez Rico, who was part of a team state championship title of her own as a junior at Gulliver School in Miami.