Recruiting Feature
Countdown to Signing Day
by Dallas Oliver, 13 March 2017
It's that time of year... Signing Day is approaching. April 12 is the first day of the Spring Signing Period - when seniors from around the nation can sign on to play college tennis at Division I or Division II schools.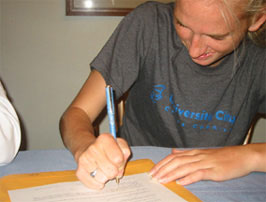 TennisRecruiting.net and
GAMMA
are monitoring the commitment lists that show the current leanings of the senior
boys
and
girls
. However, many of those kids change their minds - nothing is in writing until April 12.
As always, Tennis Recruiting is your online home for the Countdown to Signing Day, presented by GAMMA. From profiles of committed seniors - to the leanings of the top recruits - to comments from coaches and recruiting experts - to commitment announcements during Signing Week - TennisRecruiting.net and GAMMA have you covered! We bring you a courtside seat to all the action for the Class of 2017.
Take a look at our current coverage schedule:
Countdown to Signing Day Series
So there you have it - our plans for coverage of Spring Signing Week 2017. It all kicks off this afternoon with a commitment announcement from Top 100 senior Finbar Talcott who will be announcing his college decision. We will have that announcement at 3pm Eastern / noon Pacific.
This afternoon's article is the first of many over the next four weeks - followed by our coverage of Signing Week itself. Stay tuned to the Tennis Recruiting Network over the coming weeks for complete recruiting coverage!
About GAMMA
GAMMA is proud to sponsor the Countdown to Signing Day series of articles at TennisRecruiting.net.
Greatness is a Unique Path at GAMMA

GAMMA is a privately owned company with over a 40-year history of developing innovative products for players of all levels. Best known for GAMMA high performance irradiated tennis string, today GAMMA markets and sells an entire line of over 5,000 products including GAMMA racquets, strings, racquet accessories, tennis balls, grips, vibration dampeners, Ball Hopper® ball baskets and teaching carts, court equipment, and 10 and Under teaching aids.
Connect with GAMMA on Facebook, Twitter, Instagram, and YouTube - or on their website.
Leave a Comment
More Website News
3-Jan-2019
Spring Star Ratings Period Starts Next Week
Twice a year, TennisRecruiting.net updates its Star Ratings - sometimes known as "The Stars". Our next update to the Star Ratings comes in mid-March - and those ratings will be based on players' highest rankings during the next eight weeks - from the week of January 7 to the week of February 25, 2019. We invite players to review their player records to ensure accurate ratings.
12-Nov-2018
Signing Week 2018
With the Countdown now behind us, it's time for the main event. Tennis Recruiting and GAMMA are ready to kick off our coverage of Signing Week 2018 with a final look at the Blue Chip boys and girls.
15-Oct-2018
Countdown to Signing Day 2018
It's that time of year. We are less than a month away from the most important day on the college tennis recruiting calendar - Signing Day. November 14th is the opening of the signing period, when seniors can begin signing a National Letter of Intent with Division I and Division II schools. As always, the Tennis Recruiting Network is here to keep you up to date on everything.