Recruiting Profile
Sanford's Options: North Carolina or Pro Tennis
by
Colette Lewis
, 17 February 2017
Blue Chip Alexandra Sanford decided long ago the school she wants to attend, committing to the University of North Carolina in the fall of her sophomore year. Now the 18-year-old from Westerville Ohio has another choice to make - joining the Tar Heels this fall or pursuing professional tennis.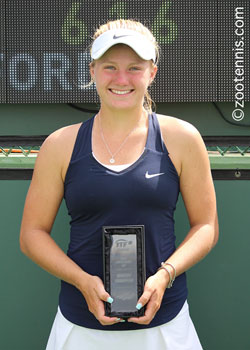 Sanford, No. 3 in Tennis Recruiting Network's class of 2017, ultimately has one goal: playing professionally. As an amateur, she already has had success on the USTA Pro Circuit, most notably at the indoor courts of the $100,000 Dow Tennis Classic in Midland Michigan, where she reached the quarterfinals last year as a qualifier and again qualified for the main draw earlier this month.
Now 684 in the WTA rankings and 54 in the ITF junior rankings, after previously reaching highs of 517 and 16 respectively, Sanford was initially planning to start at North Carolina last fall. But a year ago she began to rethink that timetable.
"Last year in January I started working with [USTA National Coach] Henner Nehles," said Sanford, the 2016 Easter Bowl champion. "Around April or May, I made the decision with him and also talked with Brian Kalbas, UNC's coach and Courtney [Nagle, assistant coach] about the situation. I felt like I wanted to go back to my original graduation date, to give myself a year to keep doing what I'm doing and play."
Sanford, who cites math as her favorite subject, is completing her academic requirements through an online program at Olentangy Orange High School.
"I'm only taking two classes, and then I'll be done," Sanford said. "Schooling was not the issue; I could have finished last spring, but I just chose to pause one of my classes and take a couple extra ones."
As she weighs the pros and cons of college, Sanford needs to look no further than her own family for pertinent information: her sister Anna is a junior on the Ohio State team.