Commitment Announcement
Spring Signing Week '17: Riley McQuaid is an A&M Aggie
by
Ali Jones
, 12 April 2017
Riley McQuaid's resourcefulness, resilience and optimism have enabled her to weather tough losses and injuries that beset top athletes.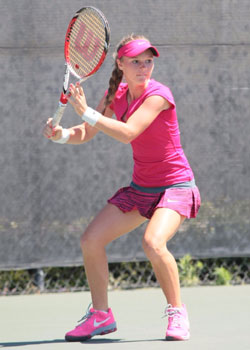 Those qualities were tested again as she faced the greatest challenge as a college-bound athlete: after having verbally agreed to a top program early in her junior year, she was informed six days before officially signing that the offer had been withdrawn because of an academic eligibility issue.
"I was completely stunned," the five-star recruit said. "It was not something I was expecting at all. I had been committed for a year, and losing that spot was really stressful."
She was left scrambling late in her senior year, but her fierce survival instinct - the same one that has seen her through numerous tests on the tennis court - kicked in.
Her search led to College Station, Texas, and Texas A&M Head Coach Mark Weaver, who engaged the university's resources to help McQuaid with the eligibility issue.
"Honestly it made me stronger as a person on and off the court, and I'm really thankful for the situation that ended up happening," McQuaid explained. "It was a huge shock, but I found a way to make the most out of it and I think A&M is the best place for me."
It was almost a decade ago when the five-foot-one champion visited Texas, and revisiting the Lone Star State was a pleasant surprise.
"The first time I spoke to Coach Mark, I really felt a strong connection to him," she recalled. "We related on a lot of levels. The girls on the team made me feel so welcome, and the whole Aggie atmosphere was just incredible. Everybody there was just helpful throughout the process. They were on my side and they found a way to make me eligible."
At A&M, she has high expectations of herself on the tennis court and in the classroom.