Tournament Feature
Gauff Gets Wins and Hugs From Little Brother in San Diego
by Rhiannon Potkey, 9 August 2018
As she continues to earn the "youngest girls player ever" distinction when it comes to major tennis accomplishments, Cori "Coco" Gauff is used to having many more people watching her matches.
But the 14-year-old has a special spectator sitting courtside this week at the Billie Jean King USTA Girls 18s National Hard Court Championships.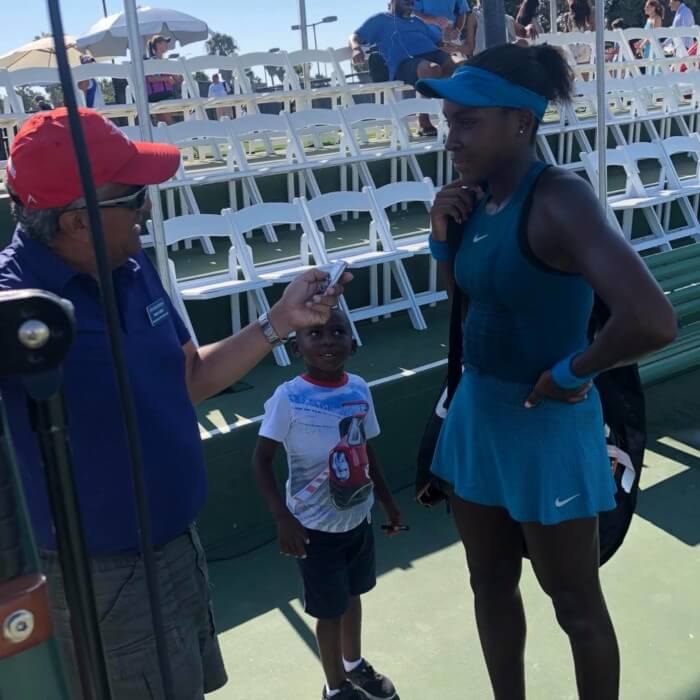 Cameron Gauff, 5, is Watching Sister, Coco, Play This Week
© Gauff Family
Her little brother Cameron, 5, made the trip to San Diego with Gauff.
"This is only the second tournament he's ever traveled with us that's not in Florida where we live," Gauff said. "We try to bring him to tournaments in the U.S., but most of them are out of the country so he can't really go to those because the flights are too long for him."
Cameron has been able to see his big sister do what she does best - compete hard and win.
The third-seeded Gauff advanced to the Round of 16 with a 7-6 (9), 6-2 win over No. 33 Carly Briggs on Wednesday at the Barnes Tennis Center. Gauff plays No. 33 seed Connie Ma on Thursday at 10:30 a.m. PT.
After each match, Cameron has been waiting for his sister to leave the court to give her a big hug.
"My dad gives me hugs once I get off the court and he likes to copy my dad and gives me a hug too," Gauff said. "It really means a lot to have him here with me. It fills up the time on the road. It can kind of get boring sometimes, but he definitely keeps us entertained."
Asking Cameron to provide feedback on his sister's performance might be a bit of stretch and not just because of his young age.
"He doesn't really watch me play because we trying to keep him quiet," Gauff said. "My dad puts him on an iPad to play games to keep him quiet because he likes to talk. He is definitely an interesting person."
Gauff is the youngest girls player to be ranked No. 1 in the International Tennis Federation rankings. She was the youngest-ever finalist at the Junior U.S. Open last year, and captured her first career Junior Grand Slam title at this year's French Open.
Although she enjoys traveling the world to play tournaments, being away from her siblings isn't always easy. Her 10-year-old brother stayed home this week to attend football practice.
"It's hard sometimes, but luckily most of my family lives in Florida. A lot of people don't live where their family lives to train, so I am fortunate to have them," Gauff said. "I get to see them when I'm home and my extended family too, and we FaceTime when I'm on the road."
Gauff got her start in tennis playing at Delray Beach's Pompey Park, and received the key to the city last month from the mayor at a city commission meeting.
She's hoping her stay in San Diego extends through Sunday and ends with a gold ball and a wild card into the main draw of the U.S. Open women's singles draw. But no matter what transpires, Gauff is glad her little brother has been along for the ride.
"So far, so good," Gauff said. "Every tournament I like to play my best, and this tournament is no different. I really like this event because it's on American soil and I don't have travel all that far and I get to play against other Americans who are doing well, which is good to see. I also really like San Diego. It's a really nice city and there are a lot of things to do here."
(Homepage photo is courtesy of Zoo Tennis)
Leave a Comment
More Tournament Features
14-Aug-2018
Rudy Quan Continues To Roll in Alabama
Top-seeded Rudy Quan won his fifth straight national singles title by defeating Dylan Charlap in straight sets at the USTA Boys 12s National Hard Court Championships in Mobile, Alabama. Quan has yet to lose a set in his five title runs.
14-Aug-2018
Puerto Rico's Perez Nets Two Gold Balls
Puerto Rico's Natalia Perez captured two gold balls at the USTA Girls 12s National Hard Court Championships in Alpharetta, Georgia. Perez outlasted doubles partner Brooklyn Olson in three sets in the singles final.
3-Aug-2018
Kypson Set To Defend 18s Title; Chopra Top Seed in 16s
Patrick Kypson is returning to Kalamazoo this year to seek a third singles title at the USTA National Championships, a rare accomplishment in the tournament's 75 years. Kypson is the top seed in the Boys 18s while Keshav Chopra is the No. 1 seed in the Boys 16s.
About Rhiannon Potkey
Rhiannon Potkey is a veteran sportswriter with more than two decades of experience in journalism. Potkey has covered many sports at many levels and has a passion for finding great stories. Potkey has covered the U.S. Open, junior sectional and national events, college conference championships and Davis Cup matches. Potkey is currently Content Strategist for Tennis Recruiting.