Where Are They Now?
Denver Graduate Henry Craig Begins Pro Career
by
Colette Lewis
, 19 May 2017
Unlike most Southern California juniors, Henry Craig went east to play college tennis, although not to the other coast, landing instead at the University of Denver after an excellent junior career.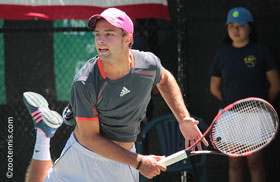 A blue chip recruit ranked as high as No. 7 in his 2012 class by the Tennis Recruiting Network, Craig reached Kalamazoo's
18s doubles final
in 2013 after his freshman season at Denver. When he returned for his sophomore year, Craig took over at line 1, where spent the rest of his career for the Pioneers.
The 22-year-old native of Murrieta California was a two-time Summit League Player of the Year and a member of the League's All-Academic team as a senior. He participated in the NCAA Division I individual tournament in both 2015 and 2016.
After graduating in December with a degree in business and a minor in real estate, Craig decided to set aside his entrepreneurial ambitions to pursue professional tennis. He qualified for Southern California's second Futures of 2017 in January, reaching the quarterfinals, and last month won the Men's Open in Ojai, beating top seed and ATP No. 341 Philip Bester of Canada in the final.
I spoke with Craig in Ojai, and we discussed how he has handled the transition from college to pro tennis, what he learned from playing college tennis, his memories of Ojai, the benefits and challenges of being on his own, and his goals beyond tennis.
Questions and Answers
Colette Lewis (CL): How have the first three or four months of your professional career gone?
Henry Craig (HC): I've made a few Futures, a few men's opens, had some good success. I've made quarterfinals in the main draw of a Futures, that's pretty good; won a few men's opens, so it's going well, and I'm getting better every week, and that's the key.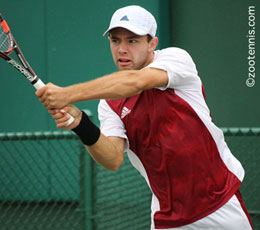 Craig has been playing Futures and Men's Opens
©
Zoo Tennis
CL: How do you get better while you're competing?
HC: Sometimes it's hard to find the time to train. I've been playing for six weeks straight, so it's been hard. I think you get better during the matches, but it's hard to work on individual things, so you just kind of have to self-coach. I coach myself now, so when I play, and something's not working, then when I go back home and I train, I'll work on that. But I have to be conscious of what I'm not doing well and also what I am doing well.
CL: Do you find it tough not to have a coach with you?
HC: I've always had someone with me [in the past], but I don't know, it's kind of a nice change. Since I coach myself, I'm always thinking of ways to get better, so no, I don't mind it. I've been staying with people - I'm getting housing here - and meeting a lot of people. I see friends around the tournaments, so that helps.