Where Are They Now?
Getting to Know NCAA Champion Brienne Minor
by
Colette Lewis
, 7 June 2017
NCAA singles champion Brienne Minor's tournament of firsts began with one.
The unseeded University of Michigan sophomore won her first match in the NCAA individual tournament last month in Athens, beating Miami's Sinead Lohan, who had eliminated her in the first round of the NCAAs in 2016. A win over 9-16 seed Gabriela Talaba of Texas Tech in the second round earned the 19-year-old from Mundelein, Illinois, All-America status for the second straight year, but she didn't stop there. By the time the NCAA singles championships were complete, Minor had recorded four more victories, defeating No. 6 seed Belinda Woolcock of Florida 6-3, 6-3 in the final to become the first Michigan woman and the first African-American woman to claim the most prestigious title in Division I Tennis.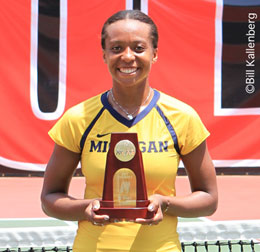 Although she tried gymnastics and swimming, Minor was destined to play tennis from an early age, with older sisters Kristina (
Illinois
) and Jasmine (
Georgia Tech
/
Oregon
) setting the bar high as nationally ranked juniors who would go on to play Division I tennis. The Minor sisters all worked with prominent Chicago-area developmental coach Mark Bey, but attending Carmel Catholic High School meant less flexibility for travel, and Brienne, the 2014 Illinois High School state champion, played primarily in USTA events. Minor enjoyed her best results in doubles, winning the
16s Orange Bowl title
with Jaclyn Switkes, the
16s Easter Bowl title
with Caroline Dolehide and the
18s Clay Court title
, also with Dolehide.
The US Open wild card traditionally awarded to an American NCAA singles champion will involve another first for Minor. Although she has visited New York twice, to compete in the USTA/ITA Indoor Intercollegiate Championships at the Billie Jean King Tennis Center, Minor has never been to the US Open.
Several days after she returned home to Illinois with the NCAA title, I spoke with Minor about her surprising run in Athens, her struggle with knee injuries, her hidden talents, her tennis inspirations and many other topics.
Questions and Answers
Colette Lewis (CL): Why didn't you play the International Tennis Federation's Junior Circuit more?
Brienne Minot (BM): It had a little bit to do with school, you know, I just couldn't miss that much. I wasn't exactly into it at the time. I was happy playing the Designateds, National Opens, then going off playing Easter Bowl and Orange Bowl, all that. But I just played where I was at and I wasn't too interested in ITFs and pro tournaments at the time. But now that I'm in college, I do want to play after college and I want to play during the summer.
CL: You weren't able to play last summer due to injury, is that correct?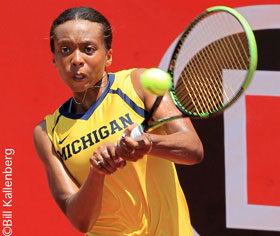 Minor is the first African-American Women's Division I Singles Champion
©
Bill Kallenberg
BM:
Yes, I have patellar tendinitis in both my knees, so I had to get a PRP (platelet-rich plasma) procedure done and I had to be out for about a month and a half, so I wasn't able to play [USTA 18s] Hard Courts. The reason I did that was so that I could play All-Americans and Regionals in the fall.
CL: Do you still have problems?
BM: I still have problems. The procedures helped, but once I got back to college, there's so much pounding, with the workouts and the practice. The pain came back, so I'm still trying to figure out how to deal with that.