Recruiting Feature
Countdown to Signing Day 2018
by Rhiannon Potkey, 15 October 2018
The signing period is quickly approaching. November 14th is the first day high school seniors can sign a National Letter of Intent with Division I and Division II schools.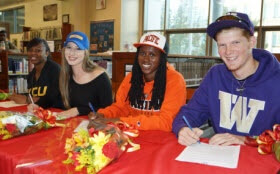 Starting today, the Tennis Recruiting Network and CrampsAWAY are ready to bring you wall-to-wall coverage in our Countdown to Signing Day series. Each day will bring fresh content to the website - with commitment features, advice and coach interviews appearing regularly.
Our college commitment lists (boys, girls) are kept up to date all year, and new commitments come in daily. But remember, those verbal commitments are not binding, and players can flip to other schools at any point until they sign their letter of intent.
Here is our planned coverage schedule:
CrampsAWAY Countdown to Signing Day Series
We get things get started this afternoon at 3 p.m. ET/noon PT with a feature on Sacramento State commitment Grace Dodd.
Check back regularly over the next month, as Tennis Recruiting and CrampsAWAY bring you a courtside seat to the Countdown to Signing Day!
About CrampsAWAY
CrampsAWAY is proud to sponsor the Countdown to Signing Day series of articles at TennisRecruiting.net.
What is CrampsAWAY Pro?

CrampsAWAY Pro is an all-natural, food-grade liquid supplement that can prevent or instantly stop cramps. CrampsAWAY comes in convenient single-serve packets, perfect for any athlete on-the-go. CrampsAWAY Pro is completely safe and free of any banned substances. It's also NSF Certified for Sport, so athletes can use it whenever needed, with the assurance that they are not putting anything foreign, unhealthy or illegal into their bodies.
Are any elite athletes using CrampsAWAY?
Absolutely! CrampsAWAY Pro has become the go-to cramp solution for many of the best athletes in the world; including pro sports teams in the NCAA, NFL, NBA, MLB and MLS. Also, many top ATP players use CrampsAWAY Pro as a competitive advantage, including John Isner, Jack Sock, James Blake and Tim Smyczek.
Connect with CrampsAWAY on Facebook, Instagram, Twitter, and YouTube - or on their website.
Leave a Comment
More Website News
13-Jan-2020
Spring Star Ratings Period Begins
Twice a year, TennisRecruiting.net updates its Star Ratings - sometimes known as "The Stars". Our next update to the Star Ratings comes in mid-March - and those ratings will be based on players' highest rankings during the first eight full weeks of the year - from the week of January 6 to the week of February 24, 2020. We invite players to review their player records to ensure accurate ratings.
11-Nov-2019
Fall Signing Week 2019
At long last, welcome to Signing Week! Signing Day is this Wednesday, November 13, and we are ready to rock. TRN and CrampsAway kick things off with a look at the schedule and an update on the Blue Chip boys and girls.
14-Oct-2019
Countdown to Signing Day 2019
College Signing Day is just a little under a month away. November 13 is the first day of the college signing period, the first opportunity for this year's seniors to sign National Letters of Intent with Division I or Division II schools. As always, The Tennis Recruiting Network and CrampsAway are here to keep you up to date on all the happenings.
About Rhiannon Potkey
Rhiannon Potkey is a veteran sportswriter with more than two decades of experience in journalism. Potkey has covered many sports at many levels and has a passion for finding great stories. Potkey has covered the U.S. Open, junior sectional and national events, college conference championships and Davis Cup matches. Potkey is currently Content Strategist for Tennis Recruiting. You can reach Rhiannon by email at
[email protected]
.