Commitment Announcement
Five-Star Senior Spencer Gray Chooses Auburn
by Rhiannon Potkey, 10 October 2018
Spencer Gray held off from purchasing any official college gear until deciding where he wanted to attend school.
He may be placing a few online orders this week in shades of burnt orange and navy blue.
The five-star senior from Boca Raton, Florida committed to Auburn on Monday night.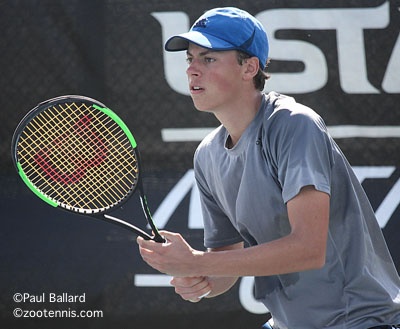 Spencer Gray Trains With Mark Merklein in Florida
©
Paul Ballard
"I really felt a connection with the coaching staff and really loved the whole vibe of the athletic program," Gray said. "I am really excited to be able to compete in the SEC, and I just felt like Auburn was an environment where I could thrive."
Auburn was the first official visit Gray made. He toured the campus, met the team and attended a football game during the first weekend in September.
Gray called head coach Bobby Reynolds and assistant coach Chris Hooshyar on Monday night to let them know he was committing.
"I told them I really wanted to be there and I was really excited," Gray said. "They both were looking forward to working with me and my coach through the year and helping me. Because even though I'm not starting there until next year, they can be an integral part of my development."
Gray was born in Cincinnati, Ohio and began playing tennis at age 7. Three years later, he decided to quit every other sport and focus only on tennis.
"I never wanted to leave the court," Gray said. "Even when I would get home, I'd hit against the garage. I only wanted to hit a tennis ball."
Gray's family moved to Florida when he was 13, which provided Gray with better training and allowed his older brother to pursue his interest in marine biology.
Gray worked with Martin Blackman until Blackman left for the USTA. He then switched to Mark Merklein, and has remained under his tutelage.
"His work ethic has always been there. He was struggling a little bit with not succeeding right away, but he was always working hard," Merklein said. "Things were not really going his way, but boy did he really weather the storm and stay with it. Eventually his game just picked up over the last few months and it's been great to see."
Playing college tennis became a clear objective for Gray during his sophomore year of high school.
"I always wanted to go pro and still want to go pro, but I think once I realized so many successful people were coming out of college and going pro at older ages, it was something I really wanted to be a part of," said Gray, who wants to study either pre-law or pre-dental at Auburn with a minor in business. "I am looking forward to improving myself and my game while also getting a degree. It's like the best of both worlds."
Merklein, a former University of Florida All-American, helped Gray break down his college options. They discussed what Gray wanted from a school and where he thought he could be successful.
Auburn was the "right fit," and Merklein believes Gray will have a positive impact on program's culture.
"He is not only a great player, but a kid that has great character and looks out for others," Merklein said. "I feel like he has been a kid who has grown on and off the court as far as his confidence and getting along with the guys he trains with and being a leader. He came here as a shy kid in the group and kind of on his own, but now he's the first to try and help everyone. That's been awesome to watch."
Gray's grandmother is coming to visit this week for his sister's confirmation. Although the timing was purely coincidental, they'll be able to celebrate his commitment to Auburn as well.
"I am relieved and just excited because the process for me was really hard mentally," he said. "I had a lot of really good options to figure out where I wanted to go. Now, I feel really great about my decision and just really excited to move forward for the rest of my year and build off of this."
Leave a Comment
More Recruiting Profiles
15-Oct-2018
Dodd Heading West To Play For Sacramento State
Three-star Grace Dodd knew during her official visit she wanted to attend Sacramento State. The Farmers Branch, Texas native is a strong doubles player and hopes to contribute to the Hornets in any way needed.
5-Oct-2018
Epilepsy Doesn't Sideline Four-Star Gabby Dellacono
Gabby Dellacono was diagnosed with epilepsy at age 10. Instead of holding her back, the condition motivated Dellacono to work even harder in tennis and become an advocate for other children. The four-star from Connecticut will be signing with Brown next month.
28-Sep-2018
Blue Chip Nanda Chooses Bruins
Motivated by a rejection when he began playing competitive tennis, Govind Nanda made a commitment to improving. That determination has now led to another commitment: the blue chip recruit is just months away from becoming a UCLA Bruin.
About Rhiannon Potkey
Rhiannon Potkey is a veteran sportswriter with more than two decades of experience in journalism. Potkey has covered many sports at many levels and has a passion for finding great stories. Potkey has covered the U.S. Open, junior sectional and national events, college conference championships and Davis Cup matches. Potkey is currently Content Strategist for Tennis Recruiting.