College Feature
Brain Tumor Doesn't Keep Oberg From Playing at Portland
by Rhiannon Potkey, 3 December 2018
Nicklas Oberg was only a few days removed from celebrating a milestone moment in his life. The five-star from Plano, Texas had accomplished one of his tennis dreams by signing to play for the University of Portland.
His future was coming into greater focus. He had everything he wanted.
Then, the headache arrived.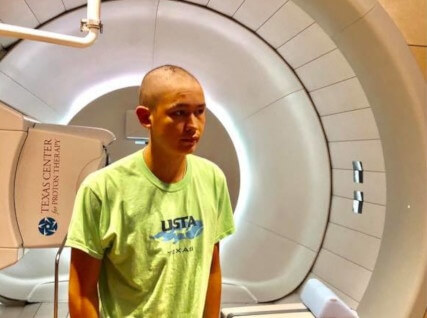 Nicklas Oberg Was Diagnosed with Brain Cancer Last Year
© Oberg Family
Oberg was preparing to leave for national indoors last November when his head began pounding. He took three Advil, but the pain didn't stop. He grabbed a bag of cold shrimp to try and dull the pain, but it persisted.
Oberg walked into his mother's room in the middle of the night and said he needed to see a doctor. Christina Chen Oberg thought it may just be a sinus infection. After all, Nick was just getting over a cold. But she drove him to the ER just to be safe.
From the highest of highs to the lowest of lows, their lives changed in an instant. The doctors discovered a tumor the size of a grape on Nick's brain.
He would need to be immediately transferred to a hospital 30 minutes away to prepare for a 4 ½-hour surgery to drain the mass.
Rather than thinking about where he may play in Portland's lineup or what classes he may take, Oberg was wondering if he would even survive to see college.
"It all happened so fast," he said. "I was scared because you never really think it would happen to you. I didn't really understand what was going on."
Oberg grew up in a tennis family. His parents both played the sport in college, and his sister, Anna, is a junior on the Portland women's team. Nick was a bit of a late bloomer on the national scene. He didn't win his first tournament until age 15.
He fell in love with Portland once he visited his sister, and knew the school would be ideal for him as well. He believed in the coaches and felt welcomed by his future teammates.
Portland head coach Aaron Gross saw great potential in Oberg and knew he could improve once he arrived on campus. But tennis quickly became inconsequential once Gross received the call telling him Oberg was in the hospital and it was serious.
"One day he's telling me he's been on the court for four hours and the next day you are talking about brain cancer," Gross said. "It was obviously very, very scary."
Widespread support system
The entire Portland athletic department was monitoring the situation, and making sure Anna had support.
Anna's friends from Texas offered to pay for her to fly home to see her brother before his surgery. In the ICU at UT Southwestern Medical Center, Christina Chen Oberg was still trying to process all the details of her son's condition.
"At that point, I can't grasp it," she said. "I was getting ready to take him to play indoor nationals and figuring these were the last six months I would be spending with him before he goes to college and I wanted to soak it all up. Now, here I am talking to a neurologist about him having a tumor in his brain. It was disbelief."
She had all the worst-case scenarios running through her mind, but didn't want her son to sense any negative energy. She knew she had to stay positive to keep him calm.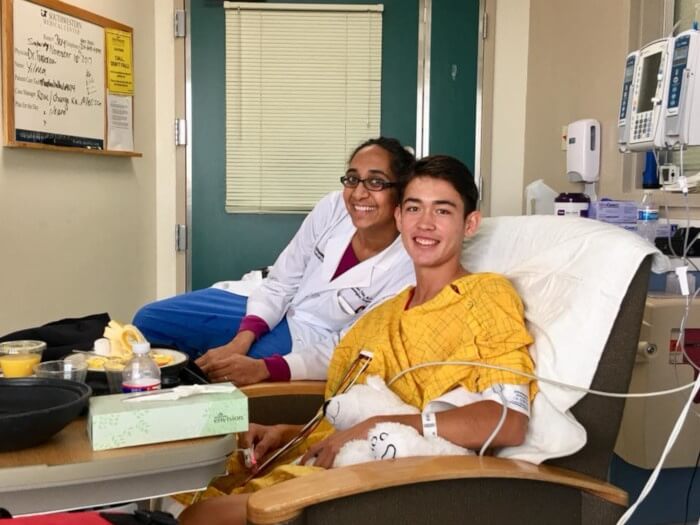 Oberg and Dr. Toral Patel, Who Performed His Brain Surgery
© Oberg Family
But right when she began feeling overwhelmed, the woman Christina Chen Oberg calls "my angel" entered the room. Dr. Toral Patel, neurological surgeon who specializes in brain tumor surgery, shook everyone's hand and immediately provided hope of a successful outcome.
"She pulled up a stool and sat next to Nick and said, 'You and I are going to go through this together and we are going to be OK,'" Oberg's mother said. "Nicklas looked at her and said, 'My god, you are going to save me.'"
Tennis helps the healing
After his surgery, Oberg went through 12 weeks of chemotherapy followed by six weeks of proton therapy. He tried to play as much tennis as he could during the treatments, even if meant just standing in one place with his head shaved hitting balls.
The sport provided Oberg with motivation and something positive to think about during the dark days. He viewed his cancer like an opponent on the court, pushing himself to never give up and find any way possible to win.
"It was really hard because I felt sick a lot and it was hard to breathe because all my counts were down and my immune system was down," Oberg said. "But I really wanted to be out there. It helped me."
Oberg's future Portland teammates called him or sent short videos to keep him encouraged during his fight.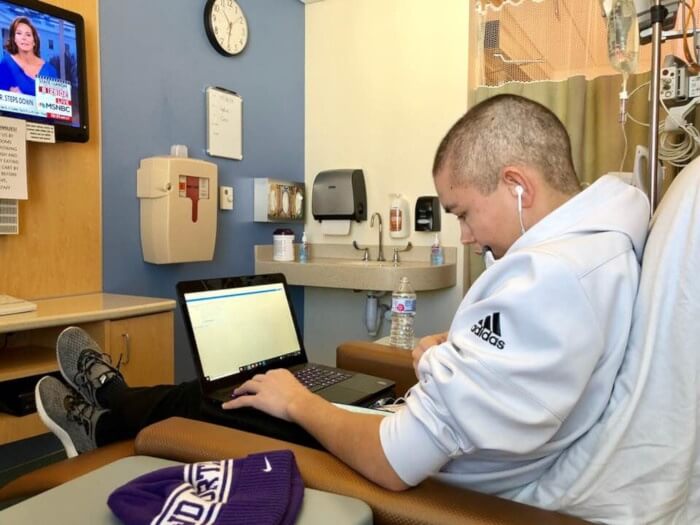 Oberg Stayed on Track Academically During Treatment
© Oberg Family
"His mom would tell me later how important those were and how much they lifted his spirits," Gross said. "He is such a tennis player, and I know that he was looking forward to college tennis and being a part of the team."
Oberg had already decided to homeschool for his senior year of high school before being diagnosed with cancer, which enabled him to stay on track academically.
He completed the full cycle of treatments in May, and was told he was cancer free.
"That was the best news ever," Oberg said. "Tennis was pretty much the only thing on my mind once I heard that. It was hard having that taken away from me like that. I didn't really appreciate it until I couldn't do it anymore."
Oberg's recovery was amazingly swift. He didn't suffer much regression on the court, and won four matches in his first tournament back.
He spent the entire summer working to get back into shape, and corresponding with Gross about his freshman season at Portland.
"I remember him asking me if I would be ready to play. I knew I wanted to make that my goal," Oberg said. "I really wanted to make sure I would be ready in the fall. I told him I was definitely going to be ready. I felt motivated."
Gross didn't want to push Oberg. He reminded him he could redshirt if he didn't feel strong enough to play right away.
"I didn't know what this year would look like. At first, it was just making sure he was going to live and he just kept reaching milestones and kept feeling better," Gross said. "It would have been fine if he spent this year recovering and recuperating if he needed that. I wanted him to figure it out."
Oberg arrived at Portland like every other college freshman, and participated in the entire fall season for the Pilots.
"He showed up on campus looking like nothing ever happened to him. It was amazing," Gross said. "He had a great fall and hasn't missed a practice. He's been great."
Attitude of gratitude
Before leaving for Portland, Oberg visited the doctors and nurses who treated him in Texas to give them cookies and thank them.
He has become an advocate for cancer research, and helped raise money for the Children's Medical Center Foundation by promoting the annual Red Balloon Children Helping Children Tennis Tournament in Plano.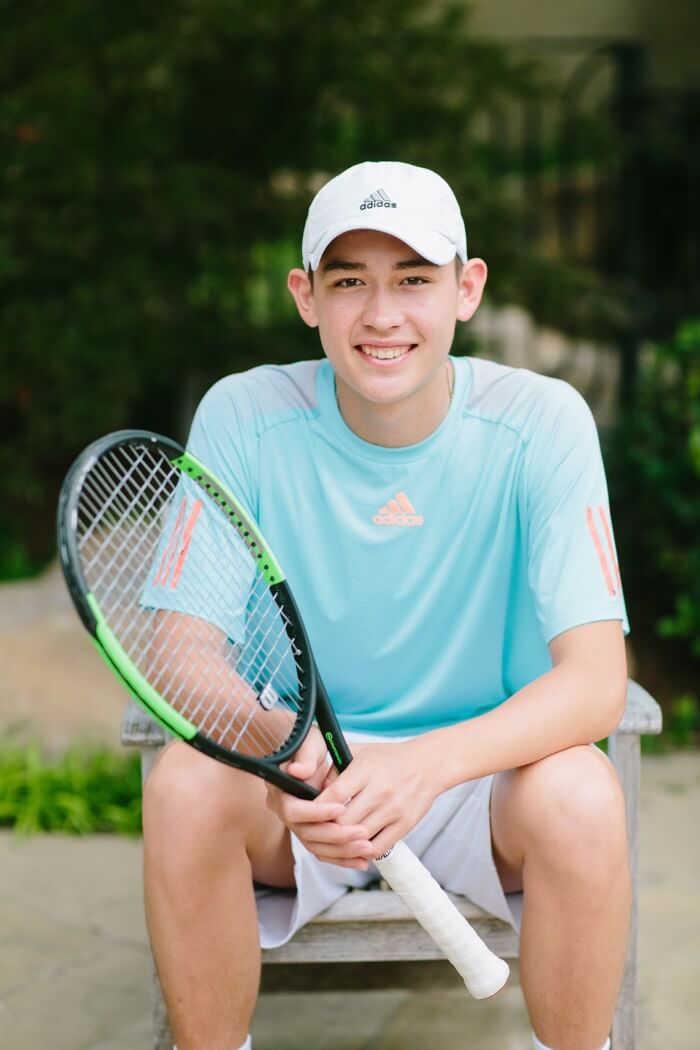 Oberg Made a Full Recovery and Played for Portland This Fall
Oberg has a scar on his forehead from the surgery as a visual reminder of the ordeal. He has to have an MRI every three months to make sure the cancer hasn't returned. Doctors told the 6-foot-2 Oberg he may not grow anymore, and could suffer some short-term memory loss.
Oberg was planning to major in business at Portland, but the cancer changed his outlook. He has decided to major in biology, and wants to become an oncologist.
"If pro tennis doesn't work out, I really want to study medicine and just help other people and make a difference in their lives," he said. "I realize how much a difference they made on mine."
His new career trajectory may be the answer to the question he asked his mother as they waited together in the ICU hours before his surgery.
"He asked me just once, 'Mom, why me?' I was thinking the same thing. 'Why him?" she said. "He is honestly such a sweet kid. I didn't know why, but I told him there must be a reason for this."
Although it's not the path he envisioned taking to Portland on the day he signed his National Letter of Intent a year ago, Oberg is grateful for how everything worked out. He realizes not everyone is so fortunate.
"I am just really happy and very humbled to be here," Oberg said. "I have really learned that it's not just about the tennis. It's about appreciating everything just a little bit more than I used to."
About K-Swiss
College Content at TennisRecruiting.net is sponsored by K-Swiss.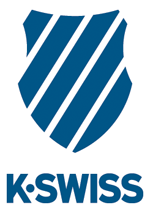 At K-Swiss we are 100% invested in the sport of Tennis and committed to helping players play their very best and win at every level. From a competitive junior or adult player to the greatest doubles team of all-time, Mike and Bob Bryan. For over 50 years we have been making some of the most innovative, high quality tennis footwear in the game featuring the very best in comfort with a consistent fit.
We encourage you to try the K-Swiss shoe that is best for your game.
Connect with K-Swiss on Facebook, Twitter, and YouTube - or on their website.
Leave a Comment
More College Coverage
10-Dec-2018
EMU Starts Rebuilding Process After Program Reinstated
The Eastern Michigan University women's tennis team is scrambling to find players and matches for the spring season after the program was reinstated two weeks ago following a lawsuit. Jayson Wiseman was re-hired as the head coach, providing a steady paycheck again for the father of nine.
4-Dec-2018
Team USA Captures Master'U BNP Paribas Title
The United States captured its eighth title in 10 years at the Master'U BNP Paribas International Collegiate Team Competition last weekend. Florida's Oliver Crawford and Pepperdine's Ashley Leahy each won three singles matches in three days to help the Americans.
27-Nov-2018
A Teacher at Hart: Get To Know Washington State's Coach
Washington State women's head coach Lisa Hart wanted to be an elementary school teacher. But after being offered an assistant coaching job at her alma mater, she fell in love with the profession. Hart combines both passions in guiding her programs.
About Rhiannon Potkey
Rhiannon Potkey is a veteran sportswriter with more than two decades of experience in journalism. Potkey has covered many sports at many levels and has a passion for finding great stories. Potkey has covered the U.S. Open, junior sectional and national events, college conference championships and Davis Cup matches. Potkey is currently Content Strategist for Tennis Recruiting.