College Feature
Brain Tumor Doesn't Keep Oberg From Playing at Portland
by Rhiannon Potkey, 3 December 2018
Nicklas Oberg was only a few days removed from celebrating a milestone moment in his life. The five-star from Plano, Texas had accomplished one of his tennis dreams by signing to play for the University of Portland.
His future was coming into greater focus. He had everything he wanted.
Then, the headache arrived.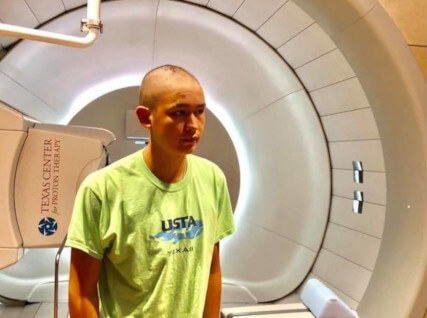 Nicklas Oberg Was Diagnosed with Brain Cancer Last Year
© Oberg Family
Oberg was preparing to leave for national indoors last November when his head began pounding. He took three Advil, but the pain didn't stop. He grabbed a bag of cold shrimp to try and dull the pain, but it persisted.
Oberg walked into his mother's room in the middle of the night and said he needed to see a doctor. Christina Chen Oberg thought it may just be a sinus infection. After all, Nick was just getting over a cold. But she drove him to the ER just to be safe.
From the highest of highs to the lowest of lows, their lives changed in an instant. The doctors discovered a tumor the size of a grape on Nick's brain.
He would need to be immediately transferred to a hospital 30 minutes away to prepare for a 4 ½-hour surgery to drain the mass.
Rather than thinking about where he may play in Portland's lineup or what classes he may take, Oberg was wondering if he would even survive to see college.
"It all happened so fast," he said. "I was scared because you never really think it would happen to you. I didn't really understand what was going on."