Tournament Feature
Americans Sweep 12s Titles at Junior Orange Bowl
by
Colette Lewis
, 21 December 2018
CORAL GABLES, Fla. - The top seeds in the 12s divisions dominated the competition in the 57th edition of the Junior Orange Bowl, with the Americans claiming their titles Tuesday.
Washington D.C.'s Clervie Ngounoue defeated Brooklyn Olson 6-3, 6-0 to earn her winner's bowl of oranges at the University of Miami, while Roseville California's Rudy Quan closed out a year for the record books with a 6-1, 6-4 victory over Santiago Muhala on the Har-Tru courts of Salvadore Park.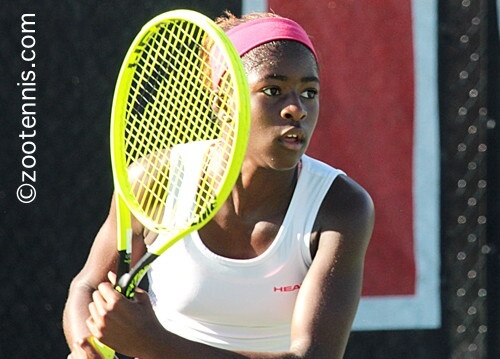 In the 14s, champions Coleman Wong of Hong Kong and Melisa Ercan of Turkey made history with the first Junior Orange titles for their countries.
Ngounoue didn't lose a set all week, with seven games the most she dropped in any match. She defeated unseeded qualifier Hayu Kinoshita of Japan 6-1, 6-0 in the semifinals, while her compatriot Olson was nearly as dominant throughout the tournament, winning all six of her matches leading to the final in straight sets, including a 6-1, 6-2 defeat of unseeded Shanice Roignot of France in the semifinals.
Ngounoue had already proven herself in the 14s division, winning the USTA Clay Court title and reaching the USTA Nationals and the Eddie Herr finals in that age group. Yet winning the Junior Orange Bowl 12s remained a goal, although she recognized that securing the title would be easier if she did not focus on it.
"I tried not to put too much pressure on myself, I just went on the court with focus every single point," said the 12-year-old, who uses meditation and visualization in her pre-match routine. "So I came into the tournament with bigger plans of course, but I took it as every other tournament."