Recruiting Profile
The Price is Right for Keyser at Cal Poly San Luis Obispo
by Rhiannon Potkey, 31 December 2018
Benjamin Keyser plans to major in business administration and may want to run his own company one day.
He received a lesson in economics during his college recruiting process. Keyser took a more practical approach to his decision.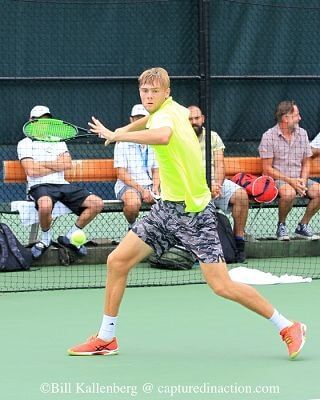 Although he could have explored opportunities at bigger schools, Keyser didn't want to graduate with debt. He didn't want to be paying off student loans for most of his life.
Keyser found a program he liked, with a price tag to fit his budget. The four-star senior from Virginia signed with Cal Poly San Luis Obispo.
"I am grateful Cal Poly is less expensive than the other California schools, and I also get a generous scholarship from the coaching staff," Keyser said. "It was really important to me financially, and definitely one of the biggest factors in my decision."
The 6-foot-7 Keyser has been training full time at JMG Academy in Sacramento, California, and wanted to stay in the state to attend college if possible.
Cal Poly head coach Nick Carless has a good relationship with some of Keyser's private coaches, and watched Keyser play during nationals in Kalamazoo.
"The coaching staff was a really big attraction for me. I really liked Coach Carless' vision for my game and my progression," Keyser said. "Then, once I got down there to visit, I fell in love with the campus and the area. I thought it was a great place for me to study and continue my tennis career."