Coverage Announcement
Clay Court Championship Week
by TRN Staff, 22 July 2019
Late July is the heart of the American junior tennis calendar, with championships abound at the district, section and national levels. At the highest level, gold balls are available in both July and August.
Last week, many of the top American juniors competed in the USTA National Clay Court Championships. Singles and doubles titles were awarded for boys and girls in four age divisions.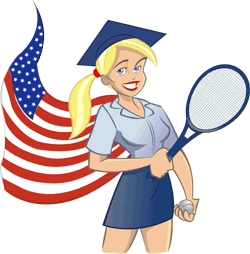 The Tennis Recruiting Network is back with another edition of Clay Court Championship Week. TRN's team of reporters will provide recaps of all eight tournaments - from the 12s to the 18s. Every gold ball winner will be featured on TennisRecruiting.net. We are proud to celebrate the top athletes in American junior tennis.
Here is our planned coverage schedule:
Clay Court Championship Week Series
We hope you enjoy our complete coverage schedule of Clay Court Championship Week. Check in each day for coverage of the top boys and girls from across the country.
Leave a Comment
More Website News
22-Jun-2020
TRN Rankings Resume
With USTA junior play resuming, the TRN ranking window will resume as well. For the next year, the ranking window will be 66 weeks instead of 52. Details here ...
4-May-2020
Impact of COVID-19 on TRN Rankings
COVID-19 has had broad impact across all walks of life - including junior tennis. Tennis governing bodies like the USTA and ITF have announced delays to junior tennis competition that may stretch out for a while. TRN rankings and ratings use USTA and ITF results, and today we are announcing changes to our rankings going forward.
31-Mar-2020
Want To Get Recruited? It's The Perfect Time to Use TRN
The first priority right now is health and safety. But with no chance to play tennis, it's a good time for players to update their profiles and upgrade to a subscription to enhance their chances of getting recruited. Coaches are on our site now more than ever.