Special from
Zoo Tennis
A Pacific Northwest resident selecting a college three time zones east may be unusual, but high school senior Anders Gibbons drew on family history when the time came to make his choice. After visiting schools in all parts of the country, the four-star senior from Seattle discovered, in his final unofficial visit, that Dartmouth was the place for him.
"It was a plus for me," Gibbons says of the prospect of attending college in faraway New Hampshire. "My parents wanted me to go away from home. My dad is from Seattle too, and he went to Maine for college. He felt it was a really good experience for him, so he kind of pushed that on me. And my mom is from the Boston area, so it's close to where she's from, so she also wanted me to go away. East Coast is great, they both really enjoy it."
With that kind of encouragement from his family, Gibbons, 18, was free to pursue any number of opportunities before settling on the Big Green. "I visited University of Washington, because it's outside my backdoor, University of Michigan, University of Wisconsin, Dartmouth, Columbia, UPenn, Princeton, University of San Diego," Gibbons says. "I visited schools all over the country, and of different sizes, but I really fell in love at Dartmouth."
After years living in the city of Seattle, Gibbons wasn't expecting to feel comfortable in a small college town in New England, but that changed when he visited Hanover.
"It was funny, because most of the schools I visited were in the city and I really felt like I wanted to be in the city until I visited Dartmouth," Gibbons says. "It was a smaller feel at Dartmouth; I knew the classes would be a lot smaller. And I just really fell in love. The school is pretty much the town. The town's population is 11,000 or something like that. It's also kind of in the middle of nowhere, which I wasn't sure if I would like, but when I got out there, the community's great and everybody just gets along together. And there's no real reason why I would need to leave campus."
Other points in Dartmouth's favor were their early interest in Gibbons, currently 78 in Tennis Recruiting Network's class of 2019, and the level of academics available at the Ivy League school.
"I really liked how interested in me they were from the very beginning," says Gibbons, who heard from the Dartmouth staff in the summer of 2017. "I liked the balance that they had between academics—obviously it's a great school— and the tennis, because their tennis is really at a high level also. It was really what I wanted in a school."
Gibbons, who attends Seattle Academy of Arts and Sciences, a private school in downtown Seattle, doesn't know what academic path he will take at Dartmouth.
"I'm not sure yet, but I'm more into the math and sciences, so I've considered going to the engineering school," Gibbons says. "I don't really know yet, but I'm definitely going to play to my math and science strengths. I'm much better at that than the humanities."
Gibbons' parents played recreationally, but it was former ATP pro Kelly Evernden who lit the fire for tennis in the early years.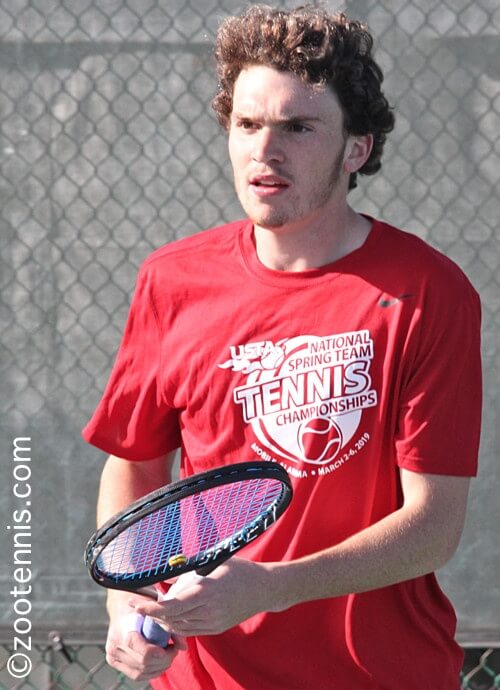 Anders Gibbons Has Committed to Dartmouth
©
Zoo Tennis
"One of my close family friends is Kelly Evernden, who was top 30 in the world at one point, and he got me started at Mercer Island Country Club," says Gibbons. "I trained with him before we eventually moved into the city, where I started training at Sand Point … He coached me from when I was 9 to 13, and the start of my strokes and everything came from him. He instilled a lot of stuff today that I use to my advantage, like my competitiveness, and he really brought out my love of the game."
That love eventually led Gibbons to concentrate solely on tennis, but not until he had tried many other sports.
"I played soccer, I played football, I did swimming, I played baseball," Gibbons says. "Football was the last sport that I played. I quit pretty much every other sport when I was 11, but I continued to play football until I was 13. When I was 13, I decided to quit football, and my mom was pretty pumped about that, because she's a physical therapist. She knew the conditions of the game. After that, I've just gone all into tennis, it's the only sport I've played since then."
Gibbons competed in his first national tournament in the 12s division and had no success.
"I kind of got slaughtered," Gibbons says. "That didn't discourage me, I was playing other sports, so I just kept at it. I started playing more Nationals when I was 14, but when I aged up into 16s, that's when I really started to get going, got into top 100 on USTA and was five star in Tennis Recruiting and stuff. Between 14 and 15 is where I really took off into the game, I feel like."
Gibbons' coach at Tennis Center Sand Point, Brian Park, is not surprised by the strides his student has made.
"He's a great kid, very mature, and he's always been very mature for his age," says Park, who has worked with Gibbons privately for the past three years. "He has a very, very strong work ethic and is self-driven. That really helped him to learn better and improve faster. He's had some hard times. Last year, he didn't do as well, but we've corrected some of those mistakes and he seems to be in a good place right now, playing good tennis right now."
Gibbons, who went 7-1 at No. 1 singles and doubles to help his team to the USTA National Spring Team Championship last week in Mobile, Alabama, believes he plays his best tennis in team settings.
"I'm really excited for college next year, because of the team vibe. I feel like in tennis I don't really get that same team feel that I got from a lot of the other sports I played when I was younger, so it's nice to have a tournament like (Mobile), or (18s National Team) over the summer, zonals, that we can play," says Gibbons. "I played that last summer, Intersectionals in Shreveport and I've done the 14s and 16s Zonals. Ever since I've gotten serious on the national level, I feel like the team tournaments are great for me. I feel like I usually do well at them; I try my hardest for the team, when I'm trying to win not just for myself."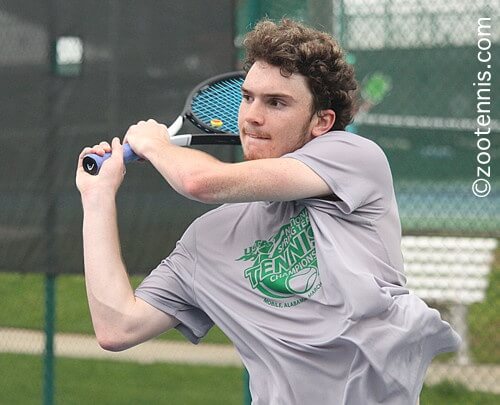 Gibbons Trains at Tennis Center Sand Point
©
Zoo Tennis
Park agrees.
"He does much better in team events, even in our classes," Park says. "He seems to enjoy it a lot. He's a good teammate and he cheers for other players and enjoys having them cheer for him. He's a very good doubles player as well. I think he'll do very well when he goes to college, because he loves that environment."
Gibbons will have another opportunity to excel in a team event this spring, when he and his twin brother Tate compete in the state high school championships.
"He doesn't play tennis anymore, he quit when he was 13, but this past year in the fall, he brought out the racquet again and we played high school tennis together," says Gibbons, who also played high school tennis his freshman year. "We won our district in doubles and so we'll be playing in the spring for the state championship. It's a lot of fun, especially to play with my brother."
When not juggling his homework, training and tournament travel, Gibbons enjoys spending time with family and friends, and being outdoors.
"Over the summer, we have great access to the lake in Seattle, so I'll spend a lot of days on the lake," Gibbons says. "And I really enjoy skiing."
But tennis is the main focus now, and Gibbons is grateful for what the sport has given him.
"I've just been very thankful for tennis for the past nine years," Gibbons says. "It's changed my life forever. I know getting into Dartmouth would have been a lot harder without tennis for sure. And to have this community of people I've met all around the nation—and even in Seattle that I've met that I wouldn't have without tennis—is pretty special to me. It's been very rewarding."
Leave a Comment
More Recruiting Profiles
21-Mar-2019
Neighborhood Chores Help Lead Martin to Georgia Tech
Andres Martin did neighborhood chores to help pay for his tournament entry fees when he was younger. The work paid off as the blue chip senior has signed to play with Georgia Tech and will be staying close to home for college.
18-Mar-2019
Unofficial Family Visit Leads DeSpain to Clemson
Ali DeSpain didn't think she would end up attending Clemson. But once she walked on campus and met the coaches, she couldn't envision herself anywhere else. The blue chip senior has signed to stay close to home with the Tigers
6-Mar-2019
Crowley Comes Full Circle By Signing with Northwestern
Briana Crowley first attended tennis camp at Northwestern when she was 8 years old. The blue chip senior will be returning to the courts, only this time as a member of the team. The blue chip senior has signed with the Wildcats.
About Colette Lewis
Colette Lewis
has covered topflight U.S. and international junior events as a freelance journalist for over a decade. Her work has appeared in
Tennis
magazine, the
Tennis Championships
magazine and the US Open program. Lewis is active on
Twitter
, and she writes a weekly column right here at TennisRecruiting.net. She was named
Junior Tennis Champion
for 2016 by Tennis Industry Magazine.
Lewis, based out of Kalamazoo, Michigan, has seen every National Championship final played since 1977, and her work on the tournament's ustaboys.com website led her to establish ZooTennis, where she comments on junior and college tennis daily.