College Feature
A Day In The Life: Ohio State's JJ Wolf
by Rhiannon Potkey, 25 April 2019
Going to class, practicing, lifting weights, playing matches, eating, studying, getting treatment. College life keeps a tennis player very busy, and time management becomes a valued necessity.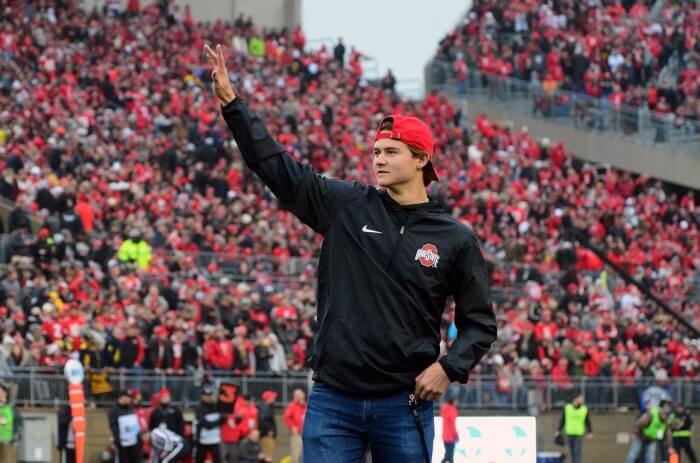 Ohio State Junior All-American JJ Wolf
How do players navigate their schedules once they get on campus? We provide an inside look through their own words.
Here is A Day In The Life of Ohio State junior All-American JJ Wolf:
Tuesday morning
We have our off day Monday, so I will probably get to bed a little early to be ready for class on Tuesday. I have two communications classes that run from 9:45 a.m. to 12:30 p.m. I get up and eat some breakfast - maybe a protein bar and greek yogurt - and then walk to class. I am taking 16 credit hours right now and have two in-person classes and the rest are online. I am a strategic communications major. My sister is doing the same thing, so I kind of followed in her footsteps a little bit. She told me it's an interesting major and I trust her on that. I am liking it right now.
It was a little odd coming in. I was supposed to be a senior in high school and I came nine months early. I didn't know a ton of people, even though I was from Cincinnati. It took me a while to get in the rhythm. The next year all of my friends from high school throughout Ohio came and I was running into about 20-30 people every day walking to class. A lot of Ohio kids are athletes and get to know each other and come to your matches. It's a big school, but it really does feel like family here. I love it. These are going to be the best years of my life obviously.
Tuesday afternoon
We have practice from 1 to 4 p.m., so I will bust it from class to practice to get there on time. I try to grab Jimmy John's pretty much every day for lunch before practice. There is one right below my apartment so it's right on my way.
On Tuesdays and Wednesdays during the season, we have our lifting and fitness after practice. Sometimes we finish a little bit earlier on those days around 3:30 to get to lifting on time, and then we have a meal delivered to us after that lift. I'll have something to eat and then go back and probably watch a little bit of tennis or maybe a little bit of TV and then start studying.
There are a lot of team practices when you get to college, but if there is ever a day maybe you don't have class it's good to try and get with a coach individually so you can work on things you need to work on as opposed to what the whole team needs to work on. I was always wondering how you can really focus on what you need to do, but if you can sacrifice a few hours out of your schedule that will really help you.