Tournament Coverage
Nisbet Makes 'Totally Unexpected' Golden Run in Girls 16s
by Sonny Dearth, 25 July 2019
She's still young enough to compete in 14s, but playing "up" last week gave Aubrey Nisbet the memory of her tennis life so far.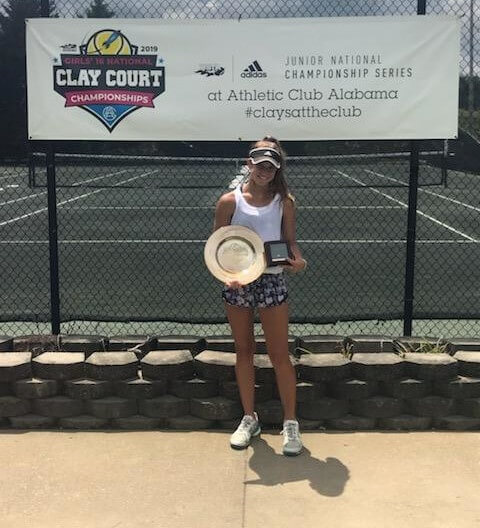 Singles Champion Aubrey Nisbet
Nisbet, from Wilmington, Delaware, won seven consecutive matches to capture her first singles gold ball at the USTA Girls 16 National Clay Court Championships amid a field of 225. Seeded 13th, she capped her surge by defeating third-seeded Carrie Beckman of Louisville, Kentucky, 6-0, 6-4 at the Athletic Club Alabama in Huntsville.
Nisbet, who attends Wilmington Friends School, won a state high school crown as an eighth grader last season and is a five-star recruit who is ranked 18th in the Class of 2023 by Tennis Recruiting Network. She wasn't expecting to leave Huntsville with the title.
"It's awesome," she said. "This has been a year when I've had a little more success on clay. In the past, I hadn't. I didn't have big expectations, and this was totally unexpected."
Nisbet, who describes herself as an aggressive baseliner, matched the feat of her idol CiCi Bellis, who won the 16s Clays six years ago in Virginia Beach.
Nisbet won her first three matches in straight sets, then upended No. 2 Jennifer Riester of Lynnfield, Massachusetts, 6-4, 4-6, 7-5 in the Round of 16.
"My first three-setter, the girl was very good," Nisbet said. "It got physical. Once I got it into the third set, I kind of forgot about it. Down 5-4, I just said, 'Get the ball in the court.' "