College Feature
Anghelescu Empowered to Become Penn State's Head Coach
by Rhiannon Potkey, 21 August 2019
The timing couldn't have been any better for Alexandra Anghelescu.
Right before interviewing for the Penn State women's head coaching job, Anghelescu attended the NCAA Women Coaches Academy in Denver hosted by WeCOACH.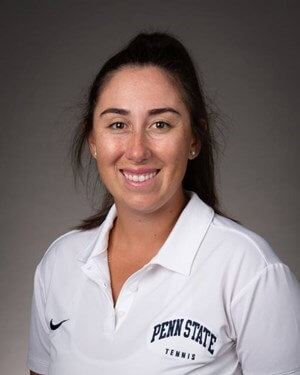 Alexandra Anghelescu
Anghelescu was one of 54 female college coaches of all sports and experience levels selected to participate in the four-day program in June.
Founded in 2011 and previously known as the Alliance of Women Coaches, WeCOACH is an organization dedicated to the recruitment, advancement and retention of women's coaches.
The coaching academy helped Anghelescu, 27, develop skills and learn strategies that impact personal and team success. She received advice and was able to network with other coaches.
"It was empowering for me to see all the females of all ages in sports come together and inspire one another," Anghelescu said. "It honestly gave me a lot more confidence that I could be the head coach at Penn State. WeCOACH is a really unbelievable program."
Anghelescu's self belief was warranted. The former Georgia Tech player was promoted from assistant to head coach at Penn State last month. She becomes the 11th head coach of the program and replaces Chris Cagle, who resigned in May.
"I am very blessed and honored to have been offered the position to be the head coach here at Penn State in a Power Five conference," Anghelescu said. "Being such a young female too, and with all the experienced candidates that applied, it's almost like a dream come true. I am just pumped and motivated to get this program moving in the right direction."
Anghelescu hired former University of Michigan All-American Ronit Yurovsky, a Pennsylvania native, as her assistant coach. The two spent the first week of August recruiting together at national hardcourts in San Diego.
"She is someone the girls can look up to, and she brings accountability," Anghelescu said of Yurovsky. "She is going to help the players have the drive and commitment and develop the confidence we are going to reach our goals."