Special Feature
From Three-Star to All-American, Touliatos Thrives in College
by Rhiannon Potkey, 12 September 2019
Preston Touliatos wasn't anywhere close to the University of Tennessee's recruiting radar as a three-star senior in 2014 at Oak Mountain High in Birmingham, Alabama.
Touliatos played several different sports growing up, and didn't fall in love with tennis until age 14.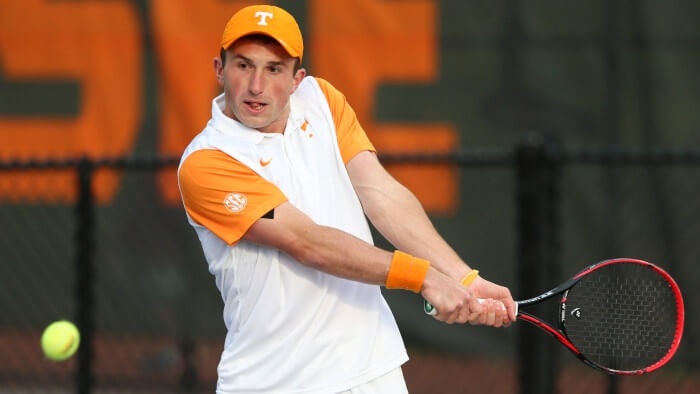 Touliatos was a Two-Time Doubles All-American at Tennessee
© Tennessee Athletics
"I was really limited with my results since I started so late and I wasn't really anything special," Touliatos said. "I knew I wanted to play a sport in college, so I started sending out mass emails to everyone."
Touliatos finally got a reply from Eastern Illinois, and decided to take a visit. He spent one year playing for EIU before realizing he wanted to transfer to a bigger program.
"My goal in college was to max my potential as best I could," he said. "I wasn't really on enough scholarship at Eastern Illinois to want to stay, and some of the athletic programs had been cut and I was not sure if the tennis program would still be there."
Touliatos didn't have much on paper that would appeal to bigger Division I coaches. He finished 10-9 in singles at EIU, primarily playing at the No. 3 and 4 positions in the lineup, and was 5-13 at the No. 1 doubles spot.
But he had faith in his potential, and had a ton of persistence.
He noticed Tennessee's ranking had dipped from where the program had been in the past, and wondered if the Vols may be in need of a player.
Touliatos emailed former UT coach Sam Winterbotham "about 20 times" and called his office nearly a dozen times. He finally reached Winterbotham by cell phone, and was asked to send a video.
After seeing him in action, Winterbotham invited Touliatos to walk-on.
"I thought it may be my big chance. It was always my dream to play at Tennessee," Touliatos said. "I grew up wanting to play baseball at Tennessee, but changed to tennis."
Touliatos is the embodiment of how much a player can successfully develop through college tennis. From a walk-on to a two-time All-American in doubles, Touliatos exceeded every expectation.