Commitment Profile
Blue Chip Neal Works Hard to Earn Opportunity at Yale
by Rhiannon Potkey, 14 January 2020
Luke Neal has been attending clinics at the California Tennis Club in San Francisco since he was 9 years old. Mature beyond his years, he's become an example that coaches Pablo Pires de Almeida and Steve Jackson use to motivate other players.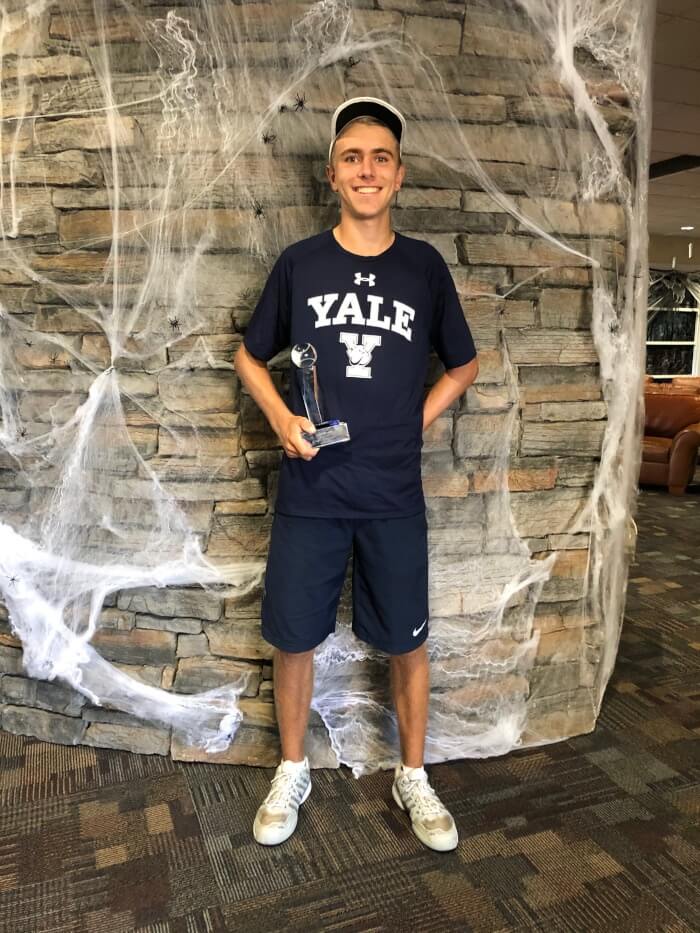 Blue Chip Junior Luke Neal Has Committed to Yale
© Contributed Photo
"He works the hardest and never complains," Pires de Almeida said. "He is just that guy that is so good for the group, and nobody can get on his court and not work hard because he is going to push you the whole time. He is just a great guy to have on your team."
Yale will get a chance to experience that benefit in a few years. Neal, a blue chip junior from Larkspur, California, has verbally committed to play for the Bulldogs.
Neal wanted to attend a top academic school, and was in contact with all the Ivy League programs. His visit to Yale's campus in New Haven, Connecticut convinced Neal Yale was the right fit for him.
"I met the team and I felt like they were really well bonded and working hard to improve. I also thought the facilities were amazing and both coaches were awesome," Neal said. "They had a player development plan personally based for me on what I should work on as well as a plan for the team."
Neal began speaking with Yale head coach Chris Drake when Drake was still coaching at Dartmouth. They developed a good bond from the very start.
"Once Chris moved to Yale, that sealed the deal because Luke just loved Yale. He went on a visit and absolutely loved every bit of it," Pires de Almeida said. "He talked to me the day he got back and was so happy about it."
Neal started hitting tennis balls with his mother at a local club at age 3. He played soccer, basketball and tennis growing up before his focus narrowed to just tennis at age 12.
"I was kind of choosing between basketball and tennis, and in tennis you are able to control playing time a little bit more and I liked that," Neal said. "In basketball, you don't know how much you will play every game."
From the time he began working with Neal, Pires de Almeida could tell he possessed the internal qualities necessary to excel in tennis.
"He is just a super-driven, mature and organized kid. He is the type of kid you need to tell to relax. He is so Type A," Pires de Almeida said. "He has been acting like a senior since he was a freshman in high school. He comes to practice and wants to get every second out of practice that he can."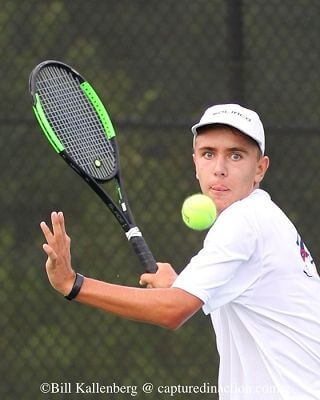 Neal is Ranked No. 5 in California and the Southwest
© Bill Kallenberg/CapturedInAction
Neal's physical appearance on the court can be deceptive.
"When you look at Luke play, you are kind of like 'OK. How good is this guy?' because he doesn't look that good to be honest," Pires de Almeida said. "He looks janky, but he gets it done and he loves being under pressure. He is just a total thinker out there."
Neal has always embraced learning. He possesses a 4.8 GPA as a junior and scored a 1460 on his SAT.
"I am invested in academics and I want to go to a college like Yale where I can really learn a lot and make a great impact on the world coming out of it," Neal said. "I know I have to take academics seriously to get to a top academic school."
But Neal does have outside interests beyond tennis and school. He enjoys reading, watching stand-up comedy and going on hikes.
"We live in a beautiful place so I love spending a lot of time outdoors," Neal said. "I love going to the ocean and taking hikes with friends and my mom. It is great."
Neal could have waited longer to make his college decision, but didn't see a need since he felt so strongly about Yale.
"That's just how he is. He has always been ahead of everything he has done," Pires de Almeida said. "I was confident he was making the right decision even though it was early. If it was some other kids, I may tell them to wait. But with Luke, he knew right away and we knew it would be perfect."
Neal's commitment has done nothing to diminish his motivation to keep improving.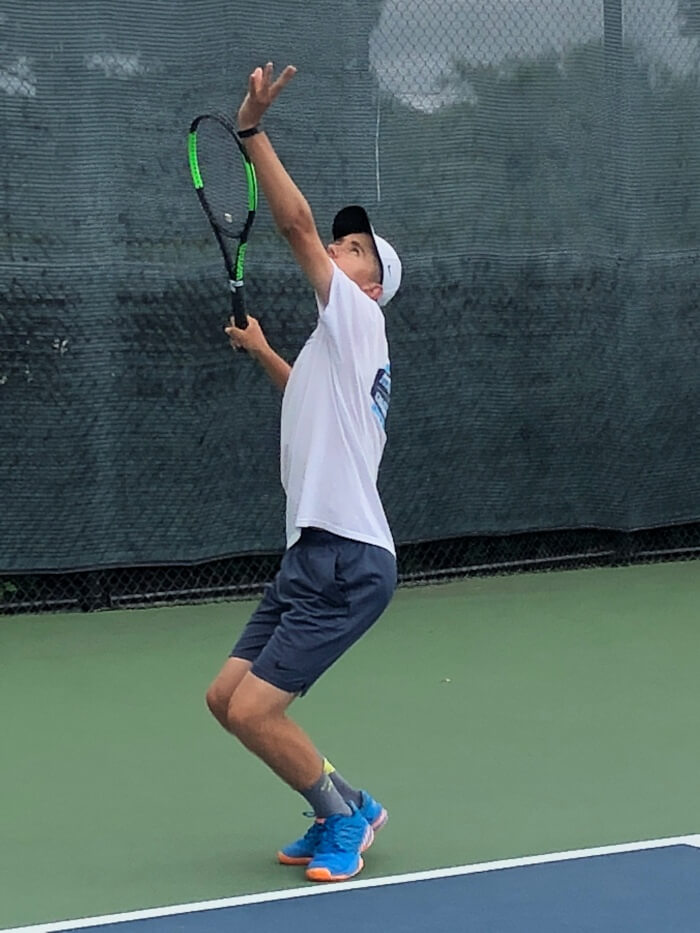 Neal Has a 4.8 GPA and Scored 1460 on the SAT
© Contributed Photo
"I am still training intensely and doing stuff in the gym and on the court. I really want to still make a nice impact and play a variety of different tournaments," he said. "It's just really nice to be committed now and not have to continue to worry about the college recruiting process. I can play a bit more freer now and not with as much pressure."
Pires de Almeida believes Neal's greatest growth is still ahead. He can get stronger and faster with more training at the college level.
"I think he is going to be a guy who explodes and gets better every year," Pires de Almeida said. "Chris is not going to have to worry about Luke. He will be leading from the get go and be totally fine. Luke will have it taken care of."
Like he's been at his COUNCIL high-performance clinics, Neal hopes to become an example Drake can eventually use at Yale through his hard work and dedication.
"I am really excited I committed there," Neal said. "Chris Drake is about to turn the team into a top Ivy League school for tennis, and I want to be a part of the team building and improving."
About CrampsAWAY
CrampsAWAY is proud to sponsor the Countdown to Signing Day series of articles at TennisRecruiting.net.
What is CrampsAWAY Pro?

CrampsAWAY Pro is an all-natural, food-grade liquid supplement that can prevent or instantly stop cramps. CrampsAWAY comes in convenient single-serve packets, perfect for any athlete on-the-go. CrampsAWAY Pro is completely safe and free of any banned substances. It's also NSF Certified for Sport, so athletes can use it whenever needed, with the assurance that they are not putting anything foreign, unhealthy or illegal into their bodies.
Are any elite athletes using CrampsAWAY?
Absolutely! CrampsAWAY Pro has become the go-to cramp solution for many of the best athletes in the world; including pro sports teams in the NCAA, NFL, NBA, MLB and MLS. Also, many top ATP players use CrampsAWAY Pro as a competitive advantage, including John Isner, Jack Sock, James Blake and Tim Smyczek.
Connect with CrampsAWAY on Facebook, Instagram, Twitter, and YouTube - or on their website.
Leave a Comment
More Recruiting Profiles
16-Jan-2020
The Next Big Stage for Four-Star French is RPI
Tennis isn't the only passion for John French. The four-star senior from Raleigh, North Carolina also performs in school plays and sings in the choir. He found a college program that supported his diversity. French has committed to RPI.
2-Jan-2020
Moss Receives Friendly Welcome at Washington and Lee
Gabriela Moss was interested in Washington and Lee University for its strong academics and tennis program. But once she got on campus, she discovered a few traditions that made her feel even more welcome. The four-star from Arizona has committed to the Division III program.
24-Dec-2019
Zukic Discovers Home Away From Home at Western Michigan
Nejla Zukic could have stayed close to home and gone to Louisville, where her high school campus is located. But she wanted to gain some independence, and found a home away from home at Western Michigan. The four-star senior signed with the Broncos last month.
About Rhiannon Potkey
Rhiannon Potkey is a veteran sportswriter with more than two decades of experience in journalism. Potkey has covered many sports at many levels and has a passion for finding great stories. Potkey has covered the U.S. Open, junior sectional and national events, college conference championships and Davis Cup matches. Potkey is currently Content Strategist for Tennis Recruiting. You can reach Rhiannon by email at
[email protected]
.