Player Spotlight
Spotlight Players of the Week: Derek Distelrath, Isabella Pescatore
by Rhiannon Potkey, 27 January 2020
SPOTLIGHT ON Derek Distelrath (Saint Clair, Michigan)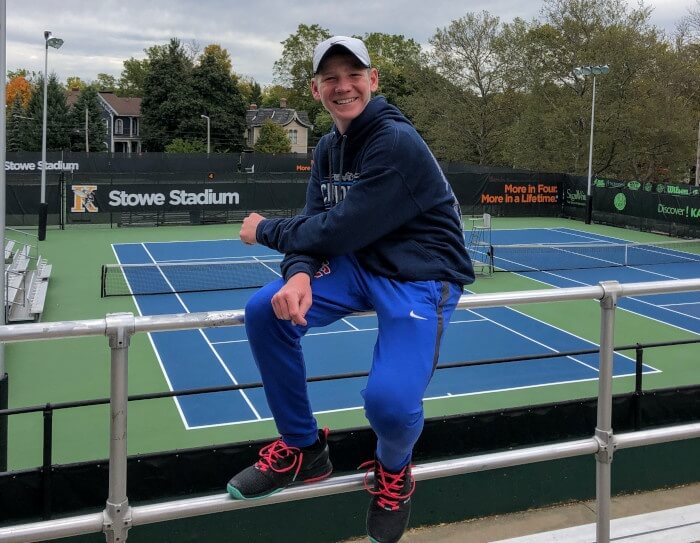 Music on your playlist: I listen to a lot of Eminem because he has a lot of good lyrics that get my blood flowing and get me pretty pumped up and excited.
Dream vacation destination: I've always wanted to go to Australia. I know they have the wildfires going right now, but that is kind of always been somewhere that sounds very fun to visit.
Favorite food: Spaghetti.
Favorite athletes: Rafael Nadal because of his work ethic and he's a really good person. In the NFL, Drew Brees because he is a very good guy and is a great competitor and athlete. In the NBA, Giannis Antetokounmpo.
Future occupation: I definitely want to go into the medical field because I am very into math and sciences. I have been thinking about being a pediatrician because I love working with kids and I love being around kids. I thought that might be a good choice, but I am also keeping my options open to a lot of other things in the medical field.
If you could have dinner with anyone dead or alive, who would it be: Gordon Ramsey, Steve Carell and Will Ferrell because they are people that I have watched either on TV or in many movies and they bring me so much joy with their comedy, or in the case of Gordon Ramsey, brutal sarcasm.
Must-watch TV show: The Office.
Favorite movie: Avengers End Game. I am addicted to Marvel and superheroes and I love the Marvel universe.
If I am not playing tennis, I am … in the summer I am usually outside playing basketball in the driveway or swimming in my pool because I like to be active and have fun that way. In the winter, maybe playing PlayStation or ping pong inside.