Who's Hot
Hot 100 List - February 2020
by Amelia Thomas, 18 February 2020
The Hot 100 lists are published each month, and the February Hot 100 lists feature the 100 boys and girls who most improved their rankings during the last month. You can find out more about the Hot 100 - and how the lists are calculated - by reading here.
The latest lists, published today, are available here:
We talked to a few of these top performers:
Sierra Berry (Frisco, Texas)
Four-star junior Sierra Berry discovered her natural athleticism at a young age. Her parents, Arthur and Salina Berry, started her in tennis when she was five after she watched her older sister enjoy the sport.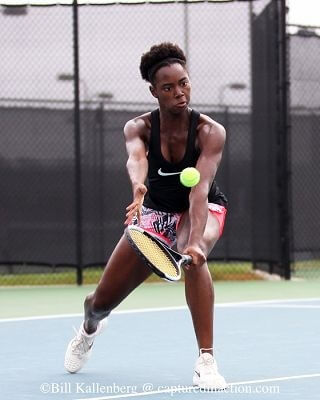 Four-Star Junior Sierra Berry
© Bill Kallenberg/CapturedInAction
Sierra Berry soon found a love for competing that was not exclusive to tennis. She took up track in elementary school and soon became an accomplished sprinter. She made the Texas State Track Championships three years in a row. During that time, she also qualified for the National Track Championships in the 400 meters.
At the age of 13, however, Berry decided to hang up her track shoes and focus solely on tennis, aspiring to make it a career. Track has certainly had a positive impact on her tennis, and Berry described her athleticism and fitness as some of her biggest strengths.
Berry currently works with coach Krista Kovacs of the High Point Tennis Center in Plano, Texas. Recently, the two have been working on her mental game.
"I'm working on being able to push myself and believe in myself no matter what the situation is," Berry said. "Also, we are working on being able to hit shots that are hard for my opponents to handle, no matter what they give me."