College Feature
Georgia Sweeps Illinois for Fifth NCAA Title
by
Colette Lewis
, 24 May 2007
Georgia senior Matic Omerzel is familiar with the two sides of team competition in tennis. In last year's NCAA finals in Palo Alto, he lost to Andre Begemann of Pepperdine, giving the Waves their first NCAA title.
On a warm and breezy Tuesday afternoon in Athens, Omerzel delivered the Bulldogs' fifth NCAA men's tennis championship, earning the final point in top-seeded Georgia's 4-0 win over the University of Illinois with a 7-6 (5), 6-2 victory over Ruben Gonzales.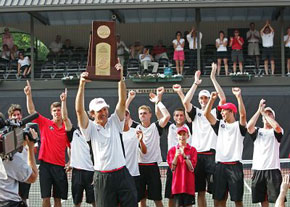 Georgia
caps a perfect 32-0 season with an NCAA title
© Doug Wrege, TennisRecruiting.net
"The whole summer that match was haunting me," admitted Omerzel, who had gotten his team to the finals last year with a clinching win over
Baylor
in the semis. "I was thinking about it a lot, I couldn't help it. But the longer we went into the season, the less I thought about it."
With shouts of "Omi" cascading down on him from many of the Bulldog fans surrounding court 4, the Slovenian right-hander was listening more for the roar from the three main courts, where fellow senior and tri-captain John Isner was heading to a tiebreak in the second set of his match with Kevin Anderson at No. 1 singles.
"I looked up at the scoreboard at the 4-1 changeover and saw John going into the tiebreaker and I was really confident that he was going to win that tiebreaker," said Omerzel, who was named the tournament's Most Outstanding Player. "I kind of listened to the crowd while I was playing my game, and when everyone went crazy, I looked up at the assistant coach, and he said 'that's it, it's on you.' I got goosebumps, I got that chill in my body. It was so loud, all eyes were on me, and I just enjoyed it, I loved it."