Recruiting 101
Meet The Assistant: Washington's Chris Russell
by Rhiannon Potkey, 5 August 2020
They fill a crucial role in every college program. They juggle multiple responsibilities and put in long hours behind the scenes. They arrive early to hit balls, they stay late to provide advice and they keep in contact with potential recruits.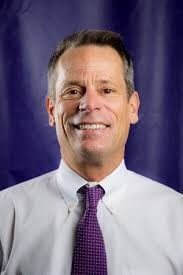 They are assistant coaches.
Although they may not get as much attention as head coaches, they are highly valued by many.
In this edition of Meet The Assistant, we profile Washington men's associate coach Chris Russell.
Why did you get into coaching?
I was asked to take over as head coach of my alma mater (UC Santa Barbara) two years after graduating. I was hooked by it right away.
What do you enjoy most about coaching?
I haven't been able to find anything that is as fun and invigorating as coaching at this level. It makes me feel alive and in sync with the team when pursuing excellence. Being given the permission to be a part of each player's growth and to have this sort of access to such talented individuals is inspiring.
What is the most challenging aspect?
Probably the time away from family, but our kids are both nearly off to college and on their own. And, the recruiting, which has never been as competitive as it was prior to COVID-19.