College Feature
Striplin Lynch Gets First Head Coaching Opportunity at Clemson
by Rhiannon Potkey, 27 July 2020
The phone call Christy Striplin Lynch spent more than a decade waiting for came at 8:30 on a Monday morning.
Clemson athletic director Dan Radakovich greeted Lynch with the news she was being hired as the fourth head coach in the program's 46-year history. Lynch succeeds Nancy Harris, who retired after 23 seasons leading the program.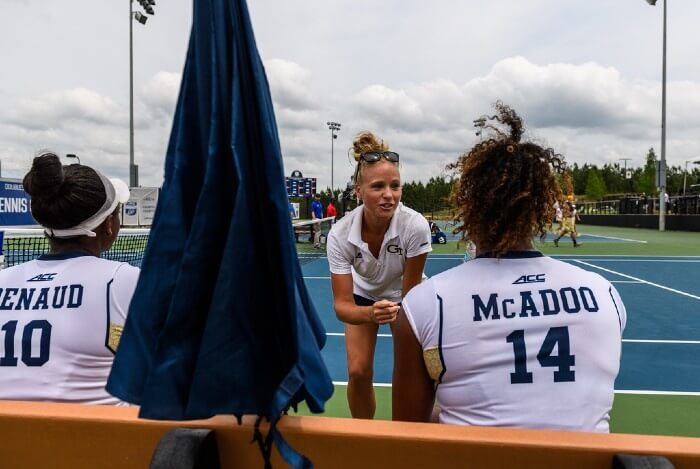 Christy Lynch Spent The Past Six Seasons at Georgia Tech
© Contributed Photo
Once she hung up, Lynch began reflecting on her coaching journey. From grinding through giving private lessons across Atlanta to being a volunteer assistant at Georgia Tech to spending one year at Division III Emory to re-joining Tech as a permanent assistant.
"They say time will pass anyway so continue to do what you love and that is kind of what I stuck to," Lynch said. "I tried to bloom where I was planted and do a great job wherever I was and hope the right opportunity would come knocking."
Lynch spent the past six seasons as an assistant at her alma mater, Georgia Tech. In that span, she helped the Yellowjackets recruit three top-10 classes and reach the Final Four in 2018.
"My goal was always to become a head coach, and I was willing to put in the time and patience and learn as much as I could at Georgia Tech so that I would be prepared whenever the right chance came," said Lynch, a 2009 graduate of Georgia Tech who finished with 117 career singles wins and an NCAA team title in 2007. "I am super excited that I was considered at Clemson. On my interview, I just felt like it was a really good fit for me and my family."
Lynch had a connection to Radakovich, who was the athletic director at Georgia Tech when Lynch played for the program and attended her Senior Day festivities. Once the Clemson job opened, she reached out to him and let him know she was interested in the position.
Lynch was eventually contacted by the recruiting service Clemson uses to identify candidates.
"It was kind of nerve-wracking doing the Zoom interview at first. Then, I was offered the on-campus interview. But it took a while with everything going on with the virus," Lynch said. "I was able to drive over and meet everyone at Clemson. I interviewed from 8:30 a.m.-5 p.m. straight at the tennis center with various different people."