Commitment Profile
Renewed Search Leads Four-Star Wernli to Gonzaga
by Rhiannon Potkey, 13 October 2020
Caroline Wernli thought she was nearing the end of her college recruiting process until the coronavirus pandemic took hold.
Spots on the rosters of schools she was speaking with were suddenly not available anymore because of the extra year of eligibility the NCAA granted to players when the 2020 season was cut short.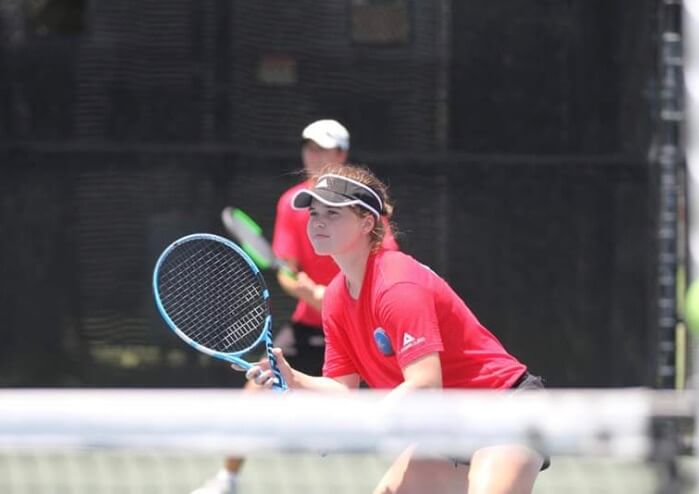 Four-Star Caroline Wernli Has Committed to Gonzaga
© Contributed Photo
The four-star senior from Austin, Texas had to research a new list of potential college options, and determined her priorities may need to change.
"I wanted to go to a big school that everyone knew about and that sounded impressive," she said. "But once I started going through the process, I realized I needed to find the best fit for me and not just what I thought would look impressive."
Wernli reached out to Gonzaga to see if there was any interest. Her grandfather lived in the area and she was impressed by their academic offerings and team continuity.
"They told me they still had one spot and actually would be getting another one because of a transfer. I thought, 'This is destiny,' because it's the only school that this is actually benefiting for me," said Wernli, who committed to the Zags last month. "I was so excited about that, and it kind of helped me feel less discouraged over the process."
Wernli was born in Dallas and moved to Austin when she was 5. Her mom played tennis at the University of Texas, and Wernli began playing the sport herself at age 8.
"I am left-handed so my parents encouraged me to get out and play a sport where that could be utilized," she said. "At the time, I was pretty into gymnastics and swimming, but being left-handed doesn't really matter in those sports. I went out and tried tennis and really loved it."
Wernli began training at the Austin Tennis Academy when she was 10. She was initially coached by Lucie Schmidhauser before Schmidhauser left to become the head women's coach at Brown. Brandon Davis took over as Wernli's coach at ATA three years ago.
"She did a really good job of adjusting to a very different coaching style. I think it helped her a lot because it showed her a different side of how to look at things," Davis said. "That is a really big credit to her to trust me and go with a new pathway towards the ultimate goal to play college tennis."
Davis, a former top-ranked Texas junior who played at Illinois, sympathized with Wernli this summer when her college offers fell through during the pandemic.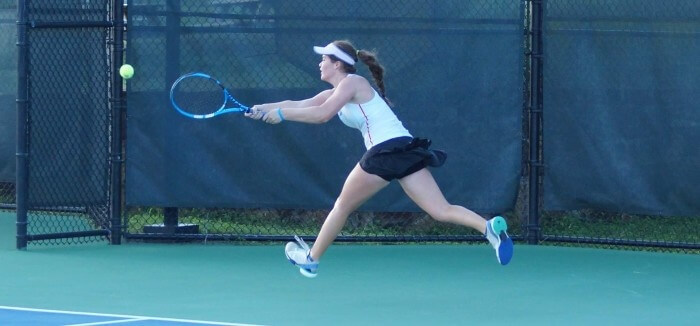 Wernli Trains at the Austin Tennis Academy
© Contributed Photo
"That kind of put her into a really rough spot. She really had to pump the brakes on the whole process," Davis said. "I told her it would still happen, but it just may not happen on your timeline right now. In the end, it worked out really well because she found a really great fit for her with a great coaching staff and a great program."
Wernli is the type of player who fights for every point and will run down every ball. She has started to use her left-handedness more to her advantage.
"She is a ferocious competitor on the court. She's always had that innate competitiveness and will do absolutely anything to win. But she's been able to understand she also needs to do the right things to win," Davis said. "She's found a much better balance the last couple of years between those two elements."
Wernli believes working with Davis provides her with a good emotional complement.
"I am a super Type A and very stressed out about everything. It was to the point where it was hard to even play tennis. But Brandon is super laid back. He knows when it's time to work hard, but also when to have fun," she said. "I feel like that has really reflected in my game and other aspects of my life."
To find a Zen state outside of tennis, Wernli likes trail running, painting with Bob Russ tutorials and baking.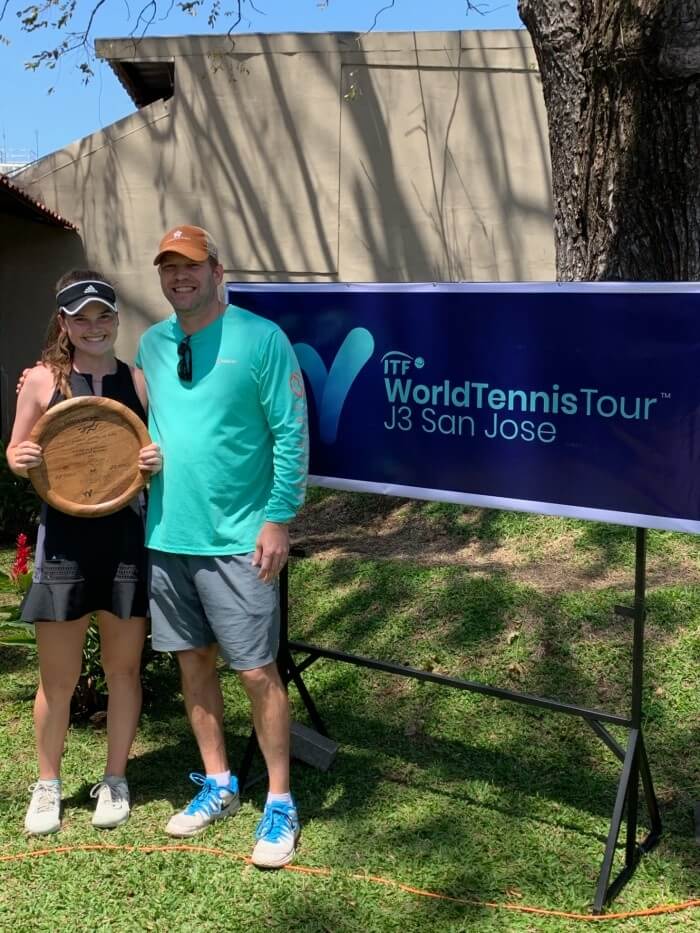 Wernli's Family Has Provided a Strong Support System
© Contributed Photo
"Even though I am not the best at baking, it's a good way to relax. My parents joke with me that I stress bake because they know I only do it when other things are stressing me out to just be calm," she said. "During quarantine, I found out I had a particular talent for making banana bread. The other things I try to bake I usually screw up or don't have enough of a certain ingredient."
Wernli credits her family with helping her reach her goal of committing to play college tennis.
"My parents have done a great job with being super supportive, and that has been awesome. They have handled things really well," she said. "I am really lucky to have such close relationships with my family and a lot of my close friends at the academy."
Wernli plans to major in biology at Gonzaga with a minor in criminology. Before she committed, she spoke with the head of the biology department to find out how the curriculum works.
"I am really into forensics, but I want to go into something on the science side of that rather than the profiling side," she said. "Hopefully I can find a job in forensics that suits me or pursue something by going to medical school."
After the emotional swings of the last few months, Wernli is grateful to have a college spot secured and feel like she can finally exhale.
"It has definitely taken a lot of pressure off my back to make my decision. I feel like in practice I have just been able to relax and make practicing a lot more fun," she said. "I have been able to work hard and be super engaged, but balance it with having more fun and enjoying being with my friends."
Leave a Comment
More Recruiting Profiles
16-Oct-2020
Ghosh's Creative Approach Leads To Notre Dame
Nibedita Ghosh took a creative approach to her recruiting process once the coronavirus pandemic limited in-person visits. The five-star senior from New Jersey who enjoys making music realized Notre Dame hit all the right notes.
15-Oct-2020
Kersten Follows Coach's Lead, Pursues Air Force Opportunity
Arjun Kersten's high school coach contacted the Air Force Academy because he thought Kersten was the perfect fit for the program. The four-star senior from Texas realized he was right, and has committed to the Falcons.
7-Oct-2020
Four-Star Sean Joseph Realizes He Belongs at William & Mary
Sean Joseph gained more confidence in his ability to play at the Division I level after receiving positive feedback from a college coach. The four-star senior from Chantilly, Virginia believes he found the right fit for his future at William & Mary.
About Rhiannon Potkey
Rhiannon Potkey is a veteran sportswriter with more than two decades of experience in journalism. Potkey has covered many sports at many levels and has a passion for finding great stories. Potkey has covered the U.S. Open, junior sectional and national events, college conference championships and Davis Cup matches. Potkey is currently Content Strategist for Tennis Recruiting. You can reach Rhiannon by email at
[email protected]
.