Section Spotlight
USTA Eastern Section: Vander Schaaf's Given Courage Award
by Rhiannon Potkey, 24 February 2021
From big events to results of recently-played tournaments to features on players, tournament directors and officials, every USTA section around the country has a lot to highlight.
My goal with this article series is to give them a platform to showcase what is taking place in their section and inform our readers.
This week, we feature an interview conducted by Scott Sode, the Content & Communications Manager at USTA Eastern:
Gavin Vander Schaaf was recently named the inaugural recipient of USTA Eastern's Junior Courage Award, an honor bestowed upon a tennis player or advocate who has demonstrated an ability to overcome adversity and display strength and optimism. At 5 years old, Vander Schaaf was diagnosed with Chiari Malformation, a condition in which parts of the brain extend into the spine. Vander Schaaf underwent multiple brain surgeries and at points in his childhood needed a wheelchair to get around. Now a sophomore at Westhampton Beach High School, he currently competes for the varsity tennis team. We talked to the East Quogue, New York native about his health journey and how a love of the sport helped him get through some tough moments in his life.
SS: What can you tell us about your experience being diagnosed with Chiari Malformation as a child?
Vander Schaaf: Chiari is a condition in which parts of the brain extend into the spinal canal, resulting in debilitating headaches, back pain, leg pain, dizziness, and more. I always had terrible headaches daily since I can remember. However, I rarely brought it up because pain was all I knew. I figured every other kid's head felt the same as mine did, so I chose to push through. I ended up having two brain surgeries, one at the age of 5, the next at 6. Complications, coupled with being diagnosed with central and obstructive sleep apnea, Lyme disease, celiac and severe vitamin deficiency causing painful neuropathy that still lingers, all put my body at war with itself. My Chiari headaches improved somewhat but many of my symptoms worsened. Contact sports were off the table. Even running at recess caused excruciating head pain.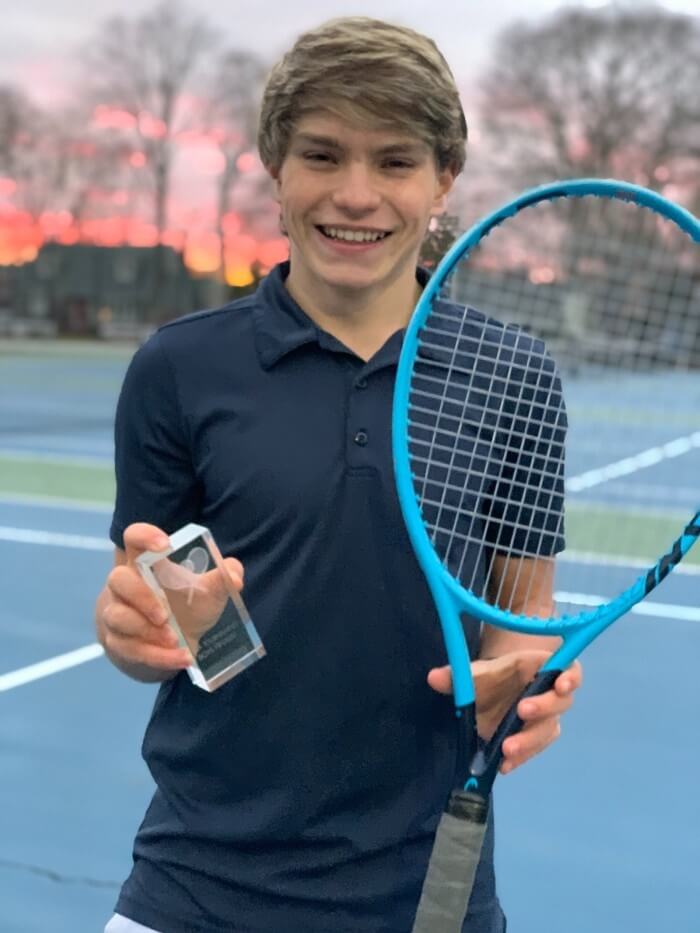 SS: How did you treat your symptoms?
Vander Schaaf: Some doctors actually wanted me to have a third surgery, which would restrict my neck movement in order to allow for my neck and spine to heal correctly. I decided to forgo that surgery. For the next six years, I sacrificed quality of life in hopes for future quality of life. I did not go to P.E. or recess. I wore a neck brace, I used a slant, and occasionally I relied on a wheelchair. I slept at an incline and reclined my seat in the car. With time, prayer, and perseverance, it all paid off. I was able to participate in adaptive P.E. in the second half of sixth grade, and school sports in seventh. I still have many symptoms today, mainly headaches and leg pain, but I am glad that I went through that extensive process. My quality of life has increased tenfold, mainly because of tennis.
SS: Why did you decide to try tennis amid all these struggles?
Vander Schaaf: My sister was an avid player and would teach me the basics in our living room, in hopes I would [eventually] be able to play for real. One day I came home with a flyer for a clinic from the club where my sister worked. She encouraged me [to try the clinic], but I was scared. She promised that if I tried it and couldn't do it, she would play Pokémon with me. That worked. There was no denying a love for the sport immediately took hold. I played as many days as I could. I would have to take time off because [I'd still get] excruciating head pain, but I kept at it. I picked it up rather easily and caught up to and even surpassed some of my peers. Being on the court made me feel like I finally had some aspect of my life in my control. For so many years, my days were dictated by my pain, but now I felt like I was the one with the power. That compelled me to keep going.
SS: You ended up playing for your school in seventh grade and eventually made the varsity team your freshman year at Westhampton Beach High School. How did it feel to excel so quickly?
Vander Schaaf: Honestly, I never wanted one thing more in my life [than to make varsity]. It was a goal of mine ever since my sister made her high school varsity team in ninth grade. I wanted to follow in her footsteps. In the weeks leading up to tryouts, I was playing more than ever. Anything that I could do to increase my level, I was doing. When tryouts came, I was terrified! I ended up placing second out of 20 in the tryouts, securing a spot for myself on the team. When my coach called my name, I felt pure joy. Everything I had done was for this goal, and I had accomplished it.
SS: What do you consider to be the biggest highlights of your tennis career so far?
Vander Schaaf: Without a doubt, receiving the first-ever USTA Junior Courage Award and being asked to do this interview for TennisRecruiting.net are the biggest highlights of my tennis career. Also meeting [WTA player] Christina McHale [as part of receiving the Courage Award], visiting the Rafael Nadal Tennis Academy in Spain with my sister, and earning enough money cleaning courts and teaching tennis to get coached and start competing in tournaments. And just finding my tennis family with Tito and J.P. Perez, Mauricio, Fernando, Justin, and a great group of friends. They all challenge me every day and helped me to get my first USTA finalist trophy!
SS: What pro players do you admire?
Vander Schaaf: Alex de Minaur is one of my favorites because of his sheer speed. I may not be the best in the advanced tennis group that I am a part of, but I am definitely one of the fastest, and whenever I am sprinting across the court, I remember the seven months of my life where I couldn't even walk or stand on my own. I also love his fighting spirit. He never lets a ball go.
SS: What are your future goals for tennis? Do you want to continue playing post high school?
Vander Schaaf: Yes! I do want to continue playing post high school, and my goal is to play for a D1 college. I'm hoping that, even though I started playing much later than my peers, if I continue to train every day, I can achieve that goal. I know that tennis will be a lifelong sport for me, and I hope to coach a high school team and coach kids who lack resources or who have suffered adversities.
Upcoming events:
For all the information about junior tournaments in the Eastern Section, go to: https://www.usta.com/en/home/play/youth-tennis/programs/eastern/junior-tournament-information.html
Leave a Comment
More Special Features
12-Mar-2021
Barnes Tennis Center Ready For More Hosting Opportunities
Despite some restrictive measures in place throughout the state, Barnes Tennis Center in San Diego has been able to safely host several events. The facilty has even more coming, including the Easter Bowl and Pac-12 team championships.
19-Feb-2021
Eight Intriguing Questions for 2021
In an annual tradition, Colette Lewis provides her list of eight intriguing questions for junior, pro and college tennis in 2021. They come with the caveat that the Covid-19 disruptions could make some of them irrelevant or less impactful.
28-Aug-2020
Catching Up With Former Ohio State Star JJ Wolf
Former Ohio State star JJ Wolf turned pro after his junior year in college. The Cincinnati native has received a main draw wildcard for the upcoming U.S. Open in New York. Colette Lewis recently caught up with Wolf after his appearance in the Western & Southern Open.
About Rhiannon Potkey
Rhiannon Potkey is a veteran sportswriter with more than two decades of experience in journalism. Potkey has covered many sports at many levels and has a passion for finding great stories. Potkey has covered the U.S. Open, junior sectional and national events, college conference championships and Davis Cup matches. Potkey is currently Content Strategist for Tennis Recruiting. You can reach Rhiannon by email at
[email protected]
.