Who's Hot
Hot 100 List - March 2022
by James Hill, 14 March 2022
TheLotto Elite Hot 100 lists are published each month, and the March Hot 100 lists feature the 100 boys and girls who most improved their rankings during the month of February. You can find out more about the Lotto Elite Hot 100 - and how the lists are calculated - by reading here.
The latest lists, published today, are available here:
We talked to some of the top performers:
Drew Abramowitz (Santa Clarita, California)
Drew Abramowitz rose almost 50 slots in the Tennis Recruiting Network boys rankings from 282nd to the No. 234 position.
The 6-foot, right-handed three-star produced an excellent 8-1 record in February, winning one tournament and reaching the finals of another. Abramowitz captured the L5 Boys 16s Open at the Moore Tennis Academy in Cathedral City, California. He earlier advanced to the finals of the L5 Open Racquet Club of Irvine Open at Irvine, California.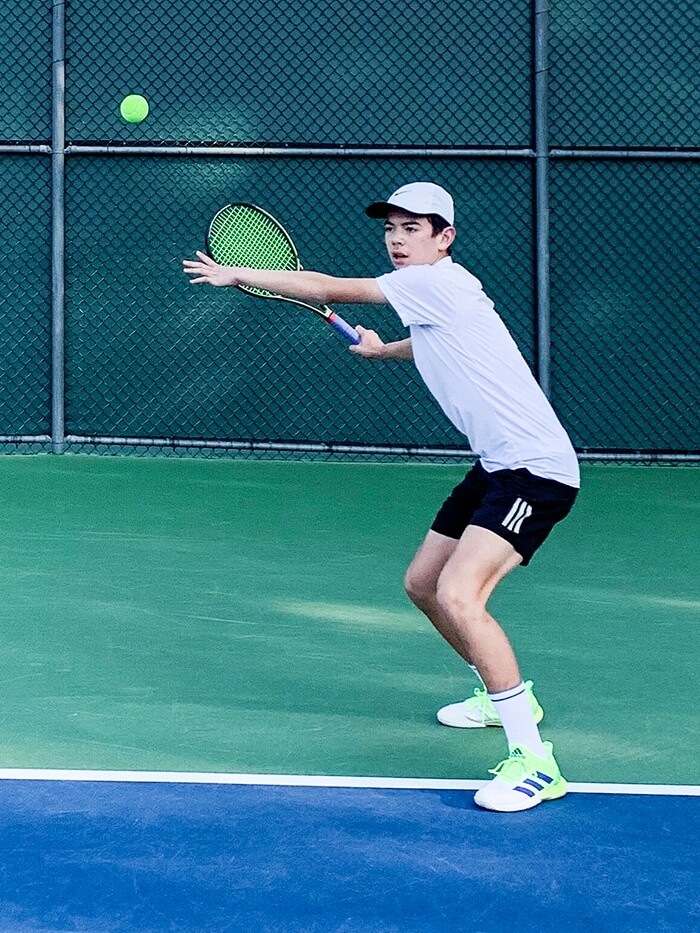 Three-Star Sophomore Drew Abramowitz
© Contributed Photo
"I credit my improvement in the last month to the effort I have put in, along with those around me," Abramowitz said. "Everyone around me is very motivated and pushing each other to the next level. I also attribute it to an increased determination to fight for every ball on every point."
Abramowitz said his best win was against Vincent Cheng in the finals of the Moore Tennis Academy tournament, which resulted in a three-set battle. Abramowitz won the pairing 5-7, 7-5, 13-11 in a match which lasted over 2 ½ hours. Down 3-7 and 4-8 in the tiebreaker, Abramowitz focused on one point at a time and prevailed.
Cecil Mamiit, co-founder and head coach at Tennis Mechanix Academy in Burbank, California; and Philip Bester of Calabasas, California, are Abramowitz's coaches. Mamiit is a former ATP top-100 player who captured the 1996 NCAA Division I Men's Singles Championship while playing as a freshman for the University of Southern California. Bester, a former ATP competitor from Canada, was also a 2006 French Open junior finalist.
"I am currently working on staying aggressive with big targets and more margin for error," Abramowitz said. "Additionally, I have tried to create more opportunities to come in and take more shots out of the air to finish points more effectively.
"I am an aggressive baseliner. My biggest strength would be my strokes from the baseline, especially my backhand down the line. I try to take the ball early, in order to take time away from the opponent.
"Something that distinguishes me from other players is the pace I bring to the court, along with the speed I like to play at. I prefer to be the one hitting the big shots, while playing offense the majority of the time. I like to attack any opportunity I have, allowing me to be the offensive player of the match."

Abramowitz's parents are Scott Abramowitz and Jie Zhang. Both are pleased with their son's work ethic.
"Drew is playing better because of the hard work he has put into training," his parents said. "He also learns from his losses and works with coaches on improving every aspect of his game. Drew is very passionate about tennis as a player and fan. He considers tennis fun and always looks forward to playing."
Abramowitz is a sophomore at Valencia High School in Santa Clarita. He has a 4.0 grade-point average and takes Advanced Placement and honors classes. Abramowitz is passionate about eventually playing in college and said he "would love to play for a team with a competitive mindset, while also focusing on improvement at the same time."