Recruiting Update
Countdown: Ryan Thacher to Stanford
by Julie Wrege, 23 October 2007
There is only one #1, and his name is Ryan Thacher (Studio City, Calif.). Thacher is a unanimous choice as the top recruit in America, standing at #1 in the USTA Boys 18s and the #1-ranked senior on the Class Rankings List.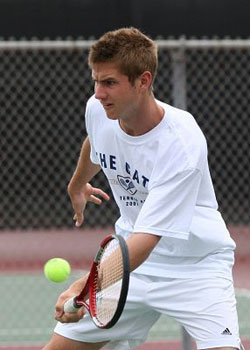 As you might guess, his on-court accomplishments in 2006-07 are unbelievable. Highlights include:
A record of 59-5, including 30 wins against Blue Chip opponents.
Eight titles in sectional, national, and international tournament play.
Advanced to the final at Kalamazoo before falling to Michael McClune.
Won a Gold Ball in the most recent Winter Nationals.
Advanced to the Round of 16 in the 2007 U.S. Junior Open.
Thacher's performance on the court is matched only by his performance in the classroom. With a 3.99 GPA (one B+!), near-perfect board scores, and a littany of AP courses under his belt, the top college coaches from around the country have all been looking at the Harvard Westlake senior.
After narrowing his list to Duke, Harvard, and Stanford, Thacher has selected the Stanford Cardinal as his college choice.
Choosing Stanford was the result of a careful and determined process.
"Ryan is a very thoughtful young man, mature for his age," said his father, Michael Thacher. "He handled 90 percent of the recruiting process on his own and had many conversations with the coaches at Duke and Stanford over the past eight or nine months [all within the NCAA rules on contact] - and got to know them very well."
The 6'4" left-hander sat down with us to discuss his college decision.