College Commitment
Countdown: Clayton Announces Decision
by Dallas Oliver, 7 November 2007
Blue Chip senior Courtney Clayton is one of the most coveted recruits in the country. Her tennis resume has it all: national titles, extensive international play, USA team titles, and wins at the professional level.
Since TennisRecruiting.net's launch in 2005, Clayton has been a fixture in the Class Rankings List Top 3. She was our #1 recruit over the first nine months of 2007.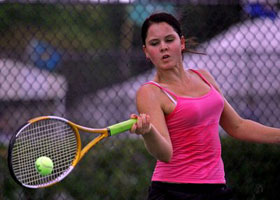 Players of Clayton's calibre often turn professional during their teenage years, skipping the college experience altogether. But Clayton has decided to take a page from her two older brothers.
Chris Clayton is a senior co-captain and #1 player at Harvard. Alex Clayton is having an outstanding year as a Stanford freshman, reaching the quarterfinals of the Polo Ralph Lauren All-American and the semis at the ITA Indoors.
Courtney Clayton, a strong student, has decided to go to college as well, and her father, William Clayton, is excited about the decision.
"Obviously, going to college is always a good choice," said the elder Clayton. "From a tennis perspective, going to a top school for two to four years should not impinge on her professional tennis dreams. In fact, she should be able to improve her game."
When Clayton narrowed her list to five, Harvard and Stanford were two schools that made the cut, along with Florida, Duke, and Northwestern.
Clayton discussed her college decision with us.